Tears, screaming and scandals: how proshol first day of appeal hearing General Nazarov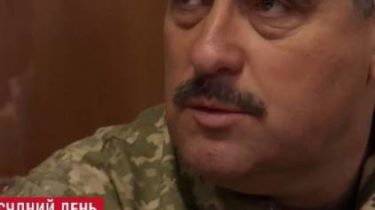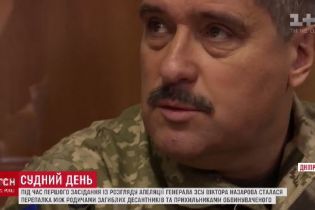 For negligence that led to the deaths of 49 soldiers in the plane "IL-76", also in the spring, was sentenced to 7 years in prison. Now Nazarov is trying to appeal the verdict.
Before the hearing for another hour, and under the walls of the court of appeal had already collected the soldiers and the relatives of the deceased posters.
"Today, for sure, will be known, there is a rule of law under pressure from high-ranking officials," – said the sister of the deceased paratrooper.
While they demand punishment for Nazarov in the opposite corner another group of soldiers stands in his protection.
Video settings Dnipropetrovsk regional court of appeal began hearing the case of General Nazarov
TSN. 19:30
Today, 19:48
Facebook

VKontakte

Google+

Twitter

Viber
"War is not lossless. If the commander makes the decision is always may incur losses", – said the military.
Loss – look at the General poster, as soon as he walks into the courthouse. Forty paratroopers and nine members of the crew of IL-76, which is summer the fourteenth was shot down by militants.
Her hands are shaking so hard, barely able to keep the picture of your son. Forty-two-year-old Vlad Kiva to fight volunteered promised to return quickly: "Mom, Shh, I'm coming! Two months go"! He's a guy that never in the party will not stand", – says the mother of the deceased.
They didn't have any chance to survive in the Lugansk airport the plane was waiting to ambush militants. The military Prosecutor's office claim that the tragedy occurred due to the negligence of General Nazarov, who was then in charge of the headquarters of the ATO.
The court of first instance Nazarov recognized guilty and sentenced to seven years in prison. But under guards it did not, and took positions in the General staff is not eliminated: the General will appeal against the verdict.
"My actions were not criminal infraction, I am confident that the court of first instance rendered illegal, unjust and biased decision," says the General.
An appeal was filed and the Ministry of defense: the Department is disputing the payment of 20 million moral compensation to the relatives of the victims, which was awarded by the previous court. In a few minutes before the meeting between the relatives of the victims and the military blows up the scandal.
In the hall of serious strain. Nazarov's lawyer submits a petition for asylum, and the court rejects them. In four hours it becomes clear that today would not be the solution. The judge calls a recess.
This is not the case when the appeal can be seen in one day, say in court. The next session is appointed to October 3. The parties are advised to prepare for a long process.
Comments
comments