The fireworks scared the Kiev hundreds of volleys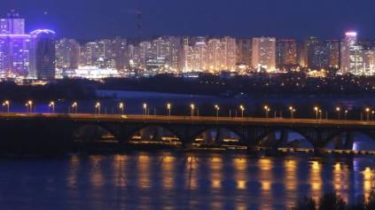 This night not only citizens. Kiev afraid of sounds similar to explosions, which, according to various testimonies, lasted from several minutes to three hours. Heard some fireworks, other gun shots and the shots from a grenade launcher. Fear in the capital were forced to react, the police and rescuers, says TSN.19.30..
A disturbing night in Kiev continued in the morning on the pages of Facebook. Hundreds of messages, in different areas – from Obolon to Holosievo – people heard explosions of unknown origin. The time interval from about the tenth to the first night.
Because from warehouses in the region of Vinnytsia in the capital of a minimum of 170 kilometers, the reasons for the mysterious Gehenna logical looking closer. In the morning, there are publications that the sounds from the teachings in the military of the National guard to the North from Kiev.
In the village Novi Petrivtsi 3027 is part of the national guard. And if the part was really teaching, it's who else but the residents of this village needs to hear the night gunfire and explosions. But it turns out not all of them heard.
About the training guardsmen warned people the only site Vyshgorodsky district administration. From September 25 to October 25, with the use of BTR and grenade launchers. However, the head of the district says: in the night disturbing the sounds were definitely not from here. The words of the official finally confirmed in the National guard. Not their explosions, they say.
"Refute. All exercises and shooting are we to 18 hours. After 18.00 no teachings does not occur. That is, the bombings were not in our part", – says military.
And only in the evening, TSN found on the network "boastful" video of the fireworks on the Dnieper Embankment – on the night of September 27. It was placed in a shop selling fireworks. And he signed it, 600 rounds in 4 minutes.
TSN went to a fireworks store on the street Borispolskaya, but sellers of fireworks declined.
At this moment it is impossible to say absolutely that the sounds that frightened the people and shook the glass, is the fireworks. But remind. While the ongoing anti-terrorist operation of the Kyiv city hall all fireworks banned. Just that there was such human anxieties.
Videomachine denied rumors of involvement in overnight explosions in Kiev
TSN. 19:30
Yesterday, 21:05
Facebook

VKontakte

Google+

Twitter

Viber
Comments
comments