Ukraine improved in global competitiveness rankings: what's wrong in the state. Infographics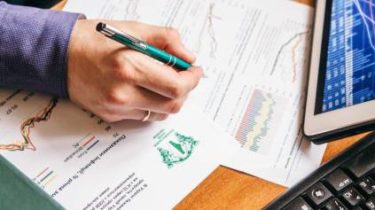 In the global competitiveness ranking Ukraine this year took 81 place among 137 countries. It is four positions better than last year (85).
The annual rankings are the experts of the world economic forum (WEF), taking into account various economic indicators, the opinions of experts. Considered about 100 different indicators and factors – the economy, inflation, exchange and stock markets, infrastructure, work efficiency of the state apparatus, the employment of the population, its health, education, crime situation, and the like.
According to the rating and the International monetary Fund, as of April 2017, the population of Ukraine amounted to 42.5 million people. The share of Ukraine's GDP amounted to 0.29% of the world. Ukraine's GDP – to 93.3 billion dollars, and GDP per capita – 2194,4 dollars. For comparison: GDP per capita in Switzerland was 79.2 thousand dollars, in the United States – 57,4 thousand dollars, in Singapore – 52,9 thousand dollars, in Poland – 12.3 thousand dollars, in Russia – 8.9 thousand dollars.
Note that in the past year, Ukraine has lost its positions in this rating and was ranked 85. In 2015 it was the 79th, and in 2014-m – 76.
First place in the current global competitiveness ranking traditionally occupied Switzerland. USA this year, the second, last year they were third. With the United States ousted Singapore, which is now third. Russia occupies the 38th place, Poland – 39, Kazakhstan – 57, Georgia – 69, Moldova – 89. In Belarus no. Last, 137-e a place in Yemen.
The global competitiveness index of Ukraine: 81 in the world, index of 4.1
No.
Selected indicators of Ukraine
Place in the world
Index (max -7)
1
Higher education and training
35
5,1
2
The size of the financial market
47
4,5
3
Health and primary education
53
6,0
4
Innovation
61
3,4
5
Infrastructure
78
3,9
6
Technological readiness
81
3,8
7
The efficiency of the labor market
86
4,0
8
The development of the business
90
3.7 V
9
Market efficiency goods
101
4,0
10
The state apparatus
118
3,2
11
The development of the financial market
120
3,1
12
The macroeconomic environment
121
3,5
The most problematic factors for doing business in Ukraine
Figure
Interest/index
Inflation
16,3%
Corruption
13,9
Political instability
12,1
Tax rates
9,7
Tax regulation
9,4
Government instability/coups
8,9
Access to Finance
7,0
Inefficient government bureaucracy
6,9
The situation on the currency market
4,3
Insufficiently educated workforce
2,5
Poor work ethic in national labor force
1,9
Lack of capacity for innovation
1,8
Restrictive labor rules
1,7
Inadequate supply of infrastructure
1,4
Crime and theft
1,2
The poor health of the population
1,0
Data: world economic forum, survey of opinions of experts of 2017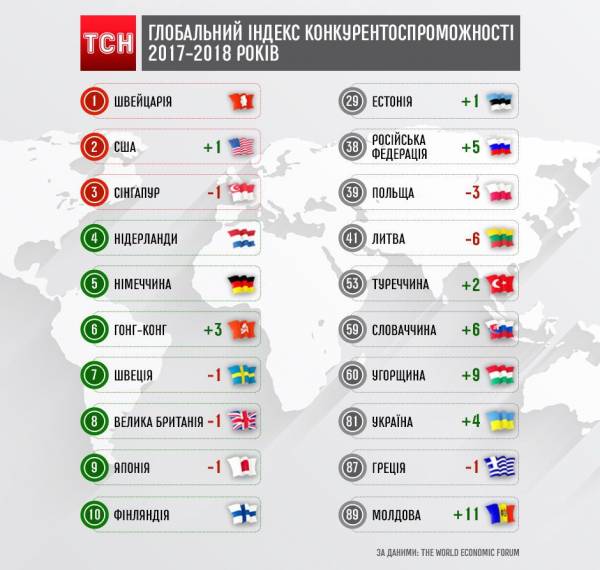 The world economic forum
Comments
comments