Journalists know how long Maryna Poroshenko paid for a welcome video for the President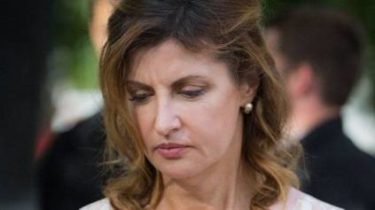 The wife of the President of Ukraine Petro Poroshenko Marina paid 4 thousand 500 hryvnias for the production of the video-congratulations on the Studio, the state of the channel by the foreign UA/TV.
This is stated in the answer of the press Secretary, Maryna Poroshenko ina BetUK, report "Scheme".
See also:
Lutsenko without the terrible folders and jokes Poroshenko over Klitschko told about the party BPP in zalese
Journalists recalled that earlier, a spokesman for the first lady stated that "this job no no money did not pay."
The video with the video greetings of the President from his wife, was recorded at Studio SE "Multimedia platform of Ukraine", which uses channel UA/TV Ministry of information policy, and asked why the recordings were chosen state Studio.
"The Studio (…) was elected on the basis of design and technical capabilities, in particular, the presence of a large screen to broadcast videos", – explained in the answer.
Press Secretary Maryna Poroshenko claims that the first lady paid for the use of the public Studio.
"Use of the Studio confirmed the Bilateral agreement between the President and the leadership of the SE "Multimedia platform". Cost of services amounted to 4,500 hryvnia," – said in response on 27 September.
In confirmation of the words "Schemes" provided a copy of the receipt where the payer specified Maryna Poroshenko.
The afternoon of September 26, the press-Secretary Maryna Poroshenko told reporters: "I do know that for this work no any money is not paid. Now is not the NINETEENTH century, to shoot a video no problem. This video was filmed not in the Studio, and let's say, friends."
As you know, September 26 Petro Poroshenko celebrated the 52nd birthday. His wife recorded a welcome video for the President.
Comments
comments