Journalists were shown the secret passages under the Verkhovna Rada and the safe Cabinet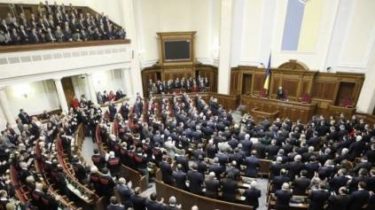 In the time of emergency in the capital and officials and people's deputies of Ukraine have the opportunity to safely leave the government quarter. For the first time, journalists were told and shown the underground passages under the Verkhovna Rada of Ukraine. But on dungeon of the presidential administration or the Cabinet of Ministers do not tell is still a big secret.
Dungeon Of The Verkhovna Rada. From the Committee on Grushevskogo show long way to the building of the Parliament. Wide passage, security, lighting, some branches, elevators. Reporters suggest these places it is better not to remove.
Journalists noticed, on 31 August of the year before, when under the Verkhovna Rada detonated a grenade and killed 4 natsgvardia, many of the deputies from the building did not. Within minutes they were already far from the city center. Chairman of the Verkhovna Rada Andrew Parubiy confirmed: underground outlets there are several.
In the hall of the Verkhovna Rada security measures paruby even weakened, now the gate to the podium already not closed. Suddenly, the main relationship. At the podium don't even need to dial a number, it's a long time, simply press the desired button.
Parubiy agrees to show the most protected place in the whole of the Parliament – his own office. Here in 2014, during the Russian aggression was about the leadership of the state. It went to the troops and special forces orders.
During the years of independence the interior of the Cabinet Chairman of the Verkhovna Rada has not changed. The only new pictures – military theme and money. Our. the hryvnia, which for a hundred years. And the sword, too, the Cossack. Probably to no one in hryvnia did not look.
Videoprobe told about the underground passages under the BP for the salvation of people's deputies
TSN. 19:30
Yesterday, 20:24
Facebook

VKontakte

Google+

Twitter

Viber
Comments
comments