Russia has sent to Donbas 69th "Humanos"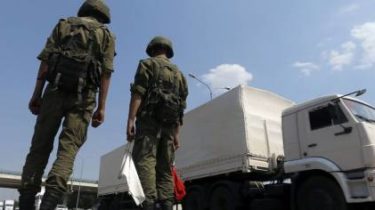 Thursday, September 28 morning of the border crossing points "Donetsk" and "Matveev Kurgan" in the Russian-Ukrainian border has arrived 69th "humanitarian convoy" from Russia.
This was reported in the press service of the Russian emergencies Ministry.
"The cars of convoy delivered to the residents of Donbas more than 400 tons of humanitarian aid consisting of food baskets for children and medicines", – says the Agency.
See also:
The mass poisoning of children in the Luhansk region, the militants moved into the school for food "humanitarian aid" from Russia
As noted, after the border "humanitarian aid" sent to the occupied Pro-Russian militants of the Lugansk and Donetsk regions.
Separately, the Russian Ministry noted that "the convoy consists of doctors and technical staff."
Earlier, the special representative of the US State Department on Affairs Kurt Volker said that the Russian Federation can resort to the aggravation of the situation in the Donbas.
Comments
comments