Fighters covered the industrial area of Avdeyevka shelling from tanks and mortars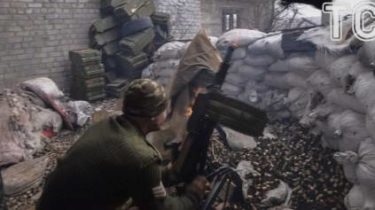 From six in the morning of Friday, September 29, fighters leveled to the ground positions of the Ukrainian defenders in the South-Eastern outskirts of Avdeevka, Donetsk region. The fire led from the Yasynuvata interchange. The tanks joined mortars.
This is stated in the plot of TSN.19:30.
"In the morning began to beat tanks. They are now for Yasinuvatsky interchange are," says Mat soldier with the Callsign "Zema".
The work of the enemy armored vehicles and artillery here at the candy bar visible to the naked eye – none of the surviving buildings. And after each firing of the floors is reduced, thus increasing broken bricks.
"It is like shooting a horror movie. It has decreased significantly," – said the soldier of the armed forces "Sanych".
In these positions, all holes are laid bricks and sand bags. After all, sometimes a good shot, especially when on the other side – human forces. Then to observe the enemy safely only in the periscope tube.
Here the positions have their own taboos. When every day around death, about her prefer not to remember neither the young nor the old, seasoned warriors.
"What's the point to think – look at your friends, live and let live," says Mat soldier "Boar".
War wearies even the most resilient and experienced warriors. Especially when you live a third year in the trenches and trench warfare don't see any end or edge.
The "good war ends, whether good or bad world. It is necessary, or negotiate, or give us a command that we honor and will quietly go forward and take these positions," – said the soldier of the armed forces "Sanych".
Vinnichanin Sasha has changed from the post, you can now think about myself. Today is his birthday. And for the second year in a row, he meets him not at home.
"Some gala dinner will cook you a call, who is from nearby positions. We'll sit down to dinner," – said the soldier of the armed forces "Dry".
Sasha will treat fellow barbecue, and to think about those who are waiting for him at home for two years, and congratulates him over the phone.
Ruslan Yarmolyuk
Videoroliki from tanks and mortars fired at the neighborhood of the Town
TSN. 16:45
Yesterday, 20:11
Facebook

VKontakte

Google+

Twitter

Viber
Comments
comments