Saakashvili complained that the presidential Administration draws to a document on termination of citizenship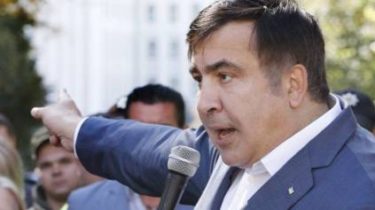 Former President of Georgia Mikheil Saakashvili published a letter from the presidential Administration, which refers to the consideration of request for documents on termination of citizenship.
The letter notes that the request from the policy obtained September 19, and according to the law the inquiry is extended to 20 days. Saakashvili said that without these documents may not appeal the termination of his Ukrainian citizenship.
"The administration requested an additional 20 days for issuing me the documents that they were required to provide in July. Imagine what they do to other citizens. And then they say I have to go to court, although the court without these documents can not go", – wrote the politician.
Recall that Saakashvili was deprived of citizenship in late July, when he was outside Ukraine. He is a politician went back on September 10. He entered the territory of Ukraine through KP "shehyni"that in Lviv region, although I was going to make it through KP "Krakovets". To the border he got the bus and illegally crossed her together with 60 persons. Some of them have used force against the guards. The court found the politician guilty of illegally crossing the Ukrainian border and ordered to pay 3400 hryvnias of a penalty plus court fee 300 UAH.
Comments
comments