Four wounded Ukrainian military and the asymmetric response of soldiers to enemy attacks. As the day passed to the ATO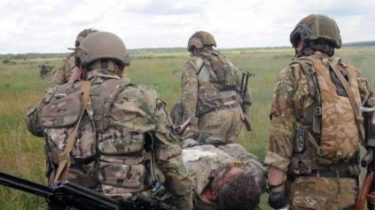 For the past day, September 29, after 18 hours , the militants twice shelled from mortars and grenade launchers positions of forces ATO near the Water.
The result is one of the attacks wounded one Ukrainian soldier, says the press center of staff ATO in Facebook. Another defender injured for about 19 hours during fire opposition on the outskirts of Birch.
See also:
ATO brutally beaten in Nikolaev
In addition, at the end of the day the invaders several times used heavy machine guns near Talakovka and Pavlopol.
On Lugansk directionnear Novotoshkivske, the militants about 20 hours released on our strong item 8 min caliber 82 millimeters and hit from anti-tank grenade launcher. Ukrainian soldiers responded harshly to the enemy. During this attack injured one soldier ATO.
On Donetsk the direction, after the morning firing activity of Pro-Russian mercenaries in the evening and night remained quiet.
In General, over the past day militants 16 times broke the truce. In days fighters 6 case, used mortars of caliber of 120 and 82 millimetre, firing in the direction of Ukrainian troops more than 70 mortar and 20 tank shells. Our military responded asymmetrically to the enemy.
In fighting 4 Ukrainian servicemen got wounds of varying severity.
We will remind, on Thursday, September 28 morning of the border crossing points "Donetsk" and "Matveev Kurgan" in the Russian-Ukrainian border has arrived 69th "humanitarian convoy" from Russia. Separately, the Russian Ministry noted that "the convoy consists of doctors and technical staff."
Comments
comments