In Odessa supporters of Saakashvili knock with "aunts"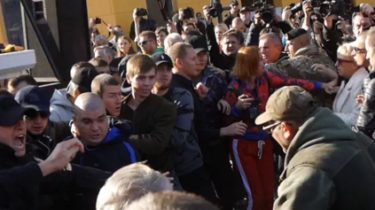 Today, September 30, in Odessa, near the monument to Duke a campaign organised by the former head of Odessa regional state administration, Mikheil Saakashvili.
As reports "Ukrainian truth", the action began at 16 hours without the presence of Saakashvili. The rally was attended by several hundred supporters of the policy.
Opposite the venue of the action gathered a few dozen young people sporting appearance. They turned on loud music which made it difficult to speak to the protesters.
Because of this, supporters of Saakashvili decided to force a way to turn off the music. The incident occurred a scuffle, which have separate law enforcement agencies. After some shoving, the police formed a ring around the car with the equipment "aunts", the music sound stopped.
Recall, the Ministry of justice of Ukraine has not yet received from the General Prosecutor's office the results of the extradition check in respect of the ex-President of Georgia Mikheil Saakashvili. We are talking about the request of the Georgian side about the results of Saakashvili.
Comments
comments