Militants "DNR" do not miss the mission of "special operations"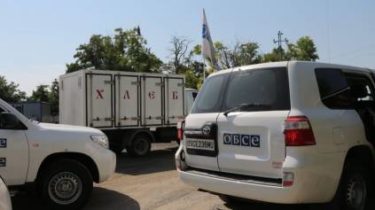 Militants groups "DNI" do not miss the OSCE observers in the occupied part of the Donetsk region.
This is stated in the report of the OSCE mission on September 29.
The three gunmen in military uniforms with their faces covered, blocked the intersection near the occupied village of Shcherbak, putting across a vehicle with an inscription "police".
Fighters don't miss the SMM patrol to drive further South, citing the "special operation" in the area. Also, the separatists did not miss a civilian car.
See also:
Over the past year in the OSCE mission in Donbas has doubled the number of Russians – Gerashchenko
Later, the team SMM were allowed to pass in a southerly direction "DPR" – controlled Novoazovsk accompanied.
Earlier it was reported that representatives of the ORDO from 24 September to unilaterally stopped to protect front line patrol base of SMM OSCE in the settlement Gorlovka. The Ukrainian side of the JCCC qualifies such a move as a gross violation of the Minsk agreements.
Comments
comments