In occupied Crimea, people in masks detained four Tatars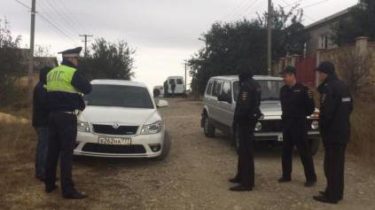 In Russian-occupied Crimea, the security forces carried out searches and arrested four Crimean Tatars.
Lawyer Eden Semelai reported three detainees on his page in Facebook.
"It became known at least three arrests: Renat Suleymanov, Kubedinov Arsene, the Minister Mustafayev," said he, adding that before the house his client Suleymanov in the village of Youth was searched, which he was not allowed.
See also:
The UN has accused the Russian Federal security service in the torture of detainees in the occupied Crimea – report
In addition, the lawyer noted that security forces were in masks and on official cars without license plates. Semelai tried to catch up to the car with Suleymanov, however, the UAZ "Patriot" blocked his way.
As written on its own page on the social network lawyer Mammet Mambetov, another arrest took place in the village Mill.
"Today at 6:00 in the house of a resident of the village of Mill Belogorsky district Talat Abdurakhmanova, born in 1953, the security forces conducted a search and took him away in an unknown direction. The search was conducted by FSB officers in Crimea. As indicated in the Protocol that they left", he said.
Earlier, the Federal security service of the Russian Federation, said that was detained in Simferopol occupied the two Russians who allegedly passed intelligence information about the activities of the black sea fleet. "The Federal security service in Simferopol detained citizens of Russia Suhonosova Anna Stanislavovna and Dolgopolov Dmitry Aleksandrovich", – stated in the message.
The FSB said that the arrested man – a soldier, his unit is in the Crimea.
Comments
comments