Scandalous Shtepa back in Slavyansk, deciding to be treated at home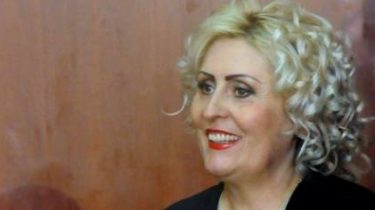 The ex-mayor of Slavyansk Nelia Shtepa was discharged from the Kharkiv hospital where he was hospitalized from the courtroom with a hypertensive crisis.
She is now undergoing treatment at home in Slavyansk, Interfax reported.
"Nelia I. already at home. Now she receives treatment (IV drips, injections – all that is prescribed in Kharkiv the doctor) at home, at his residence," said her lawyer Dmitry Marchenko.
See also:
Shtepa under house arrest welcomes guests with gifts and predicts to himself the presidency
According to him, Shtepa refused day hospital out of fear that it can be regarded as a violation of the round-the-clock house arrest.
"We tried to explain to her that in this case a violation of not talking, but she is very afraid that the court might again be arrested," – said Marchenko.
The former mayor of Slovyansk Nelly Shtepa was kept in detention since 11 July 2014. Stepu accused of holding an illegal poll on the issue of federalization, and that it has not taken adequate action to release the seized building of the city police Department, where he kept the 479 units of service weapons, and in a media interview urged not to release him. The indictment also stated that Shtepa has expressed support for the separatists, prevented the capture of the city Council and allowed the militants "DNR" to take the city, leading to Sloviansk from April 12 to July 5 of last year.
Videonale Shtepa, put a new electronic bracelet
TSN. 16:45
September 26, 17:42
Facebook

VKontakte

Google+

Twitter

Viber
In addition, according to prosecutors, the … contributed to the organization and strengthening of the illegal checkpoints. Separately noted that during the occupation and fighting in Slavyansk killed 117 people, 198 were injured. Damaged 1574 house, and also objects of housing and communal infrastructure of the city.
We will remind, the scandalous former mayor of Slovyansk Nelly Shtepa released from jail under house arrest. The Kharkiv court considered the extension of a measure of restraint to Stay and decided to release her from behind bars.
In turn, the judges reported how it happened that Shtepa released. Because the article in which the woman is accused, in particular, the encroachment on the territorial integrity of Ukraine do not provide for other measures of restraint other than detention. According to the judges, Shtepa was sent home because of health status – during the examination she was diagnosed with hypertension and diabetes. And in jail need treatment, say the judges, suspected to not be able to. The risk that Shtepa could escape or influence witnesses – judges did not see.
Comments
comments