In Khmelnytsky journalists tracked down the most courteous bus driver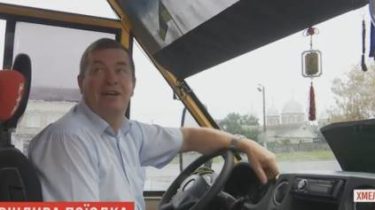 With a courteous chauffeur in Ukraine. 52-year-old bus driver from Shepetovka Khmelnitsky region greets each passenger, spilling compliments to women and helps to bring bags to grandmothers, says TSN.12.00.
Gloomy morning, the rain lashes, and the bus number eleven out fun passengers. The driver in the blue shirt is always smiling. The passenger who comes first, willingly talks about his favorite driver.
"And wish health and good luck, if you release a good day tells you," praises the driver passenger.
Видео52-year-old bus driver in Khmelnytsky calls his passengers "princesses"
TSN. 12:00
Today, 12:49
Facebook

VKontakte

Google+

Twitter

Viber
Alexander Lahai on this route has been running for five years, was the personal driver of a local official.
"From the first day, the first flight I started talking to everyone, everyone – good day, good trip, when we go out – have a good day," says the driver.
To the passengers he had a special relationship. Calls them princesses and ladies. He says that today they are even more beautiful than yesterday. Some women with empty bags waiting for him at the bus stop "Railway station". Them he carries to the market and takes home. "Princess" admit that compliments the driver, sometimes, the only male attention all day.
His bus is always clean, the atmosphere in her joyful and playful. Passengers admit that they sometimes miss other vehicles to wait for this driver and be in a good mood.
Comments
comments