Geletey said about the punishment of war PAROLE after attacks on journalists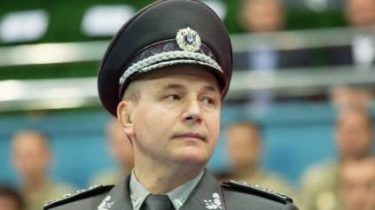 Head of Department of state protection Valery geletey said that he had punished the culprits after attacks on journalists outside the restaurant, where the President of Petro Poroshenko on the occasion of the wedding of the son of Prosecutor General Yury Lutsenko.
About this he wrote in Facebook.
According to him, an official investigation on the incident with the assistance of the program "Schemes" and the military HUGO completed.
"Therefore, for failure to comply with the requirements of the Law of Ukraine "On state protection of state authorities of Ukraine and officials" to protect and to respect the constitutional rights and freedoms of man and citizen, to be a model of high culture, modesty and endurance, and for violation of the requirements of the Charter of internal service of Armed forces of Ukraine, according to which the soldier must be a model of high culture, modesty and exposure, the two officers involved in the incident and their head brought to disciplinary responsibility", – said the official.
See also:
He tripped and grabbed the operator. Geletey said that his subordinate did not attack journalists
According to him, there were classes in compliance with the rules of military courtesy and behavior of military personnel.
"We're now planning to hold a round table with media experts and media representatives with the aim of establishing communication with reporters and developing a joint mechanism of action, taking into account the specificity of activities of the state security Department of Ukraine", – said geletey.
An internal investigation regarding the incident involving "Schemes: corruption in detail – RFERL" and military personnel ASB Ukraine…
Published Valery Geletey 4 Oct 2017
We will remind, incident has occurred on the night of September 16 in Koncha-Zaspa near one of the restaurants where President Petro Poroshenko, Prime Minister Vladimir Groisman, Vice-speaker Irina Gerashchenko and a number of politicians. The journalist said that he and cameraman were attacked by employees of the state security Department attempting to stop the shooting.
The attack occurred during the celebration of the wedding of the son of Prosecutor General Yury Lutsenko.
The next day geleta apologized to the journalist for the attack of the state security guards on the film crew. In UDO started an internal investigation over the actions of employees.
Also, the journalists wrote a complaint to the police about hindering legitimate journalistic activities.
Comments
comments