Pro-Russian Czech President offered to compensate the annexation of Crimea by money or "oil and gas"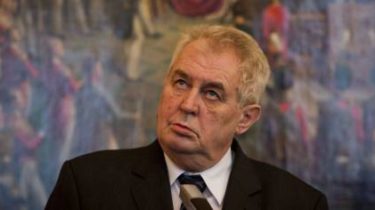 Czech President Milos Zeman called the annexation of Crimea by Russia "completed thing" and offered to compensate for "depressed" areas or financial gas.
He stated this during his address to the deputies of the parliamentary Assembly of the Council of Europe in Strasbourg, writes "European true".
"Crimea is annexation, without a doubt. It is a finished work (fait accompli). In my opinion, will be some compensation for Ukraine – or in a financial form or in oil and gas", – he stressed.
According to Zeman, if Ukraine does not agree to compensate, will start the "European war".
"If we want to take the Crimea to return to Ukraine, it would mean a European war" – quoted Czech President and his former German counterpart Joachim gauck.
According to the head of the Czech Republic, and war is inevitable in the case of a continuing effort to return the Crimea.
"We have to avoid European war, and you have to understand," he concluded.
We will remind, earlier the Secretary General of the Council of Europe thorbjørn Jagland called on representatives of the Russian Federation to return to the session hall of the PACE. "The group of the EPP (European people's party) came to COE Secretary General thorbjørn Jagland and openly stated that after the refusal of Russia to do the membership fees, the organization with two choices – to keep valuables or to keep the Council of Europe… so have try the Supreme head of the COE to succumb to direct blackmail. Because without the protection of the values of democracy and human rights that will become blabla-club, I and other members of the Ukrainian delegation together with the Georgians and the Lithuanians gave a harsh response to Jagland," – said the head of the Ukrainian delegation to the parliamentary Assembly of the Council of Europe Volodymyr Ariev.
Comments
comments