The bride's bouquet with your own hands: walkthrough video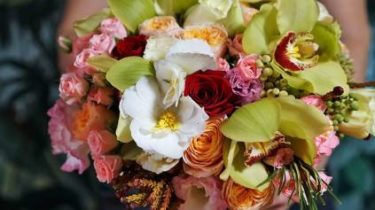 Advertising
Our service includes free delivery of flowers in Kiev, paying by credit card, which is very convenient, given the "globalnost" an upcoming event.
For making wedding bouquets florists our salon uses a variety of techniques. However, we will not be distracted, going into detail, let's consider the most simple. Let's create together the bride's bouquet using the spiral technique. The article will be step by step instructions, below is the link to the video where you will see the immediate creation of our unique works.
The composition will include the following components:
lisanthus (eustoma);
peach peony, white, scarlet and pink roses;
light green orchids;
garden begonias;
greens.

Use any colors what you want: let your main Bridal accessory will be unique and not be afraid to experiment!
Training
All flowers and plants must be originally put in the most aesthetically pleasing appearance. Removed not needed leaves, needles, ugly petals. Carefully peel the stalks to a level where we will begin the "stem" of the bouquet. Flowers orchids and begonias taproom on the wire (see video).
Start
Flowers and sprigs of greenery collected in a spiral, placing them at an angle. Keep the bouquet in your left hand, the right one adding plants. The free space between the large flowers filled with Nisantasi, shrub roses and sprigs of greenery, carefully making sure that the leaves and flowers were sent "face to audience". Each subsequent row should be a little lower. Use a mirror: in it, you will be better able to view the composition.

After the bouquet is assembled, tied the stems are strong cord. Now carefully viewed your masterpiece from all sides, if possible we correct what we don't like, too "sticking out" of small elements is not trying to "sit deeper" – better than neatly cut with scissors. Cut the stems.
Put our flowers in water for a few hours, giving him the opportunity to "get drunk". During this time, the flowers slightly open, straight, and "make friends".
Finally!
Got a bunch of water, dried and zataplivalo stems. At the end – wrapped "leg" satin ribbon, securing it with pins. The tape should pick up the shade that is present in the composition.
And do not worry if something didn't work out as you imagined. In any case, this "living masterpiece" will be the most unforgettable attribute of your wedding!
If you are not confident in their abilities, don't be afraid to ask the florists we always meet customers. Consider your budget, consider correction part of a wedding bouquet. Ordering flowers in Kiev are working around the clock, delivery of bouquets available in any time convenient for you.
Comments
comments