The actions of Hungary and Romania in PACE can be dictated by the territorial claims to Ukraine – Gerashchenko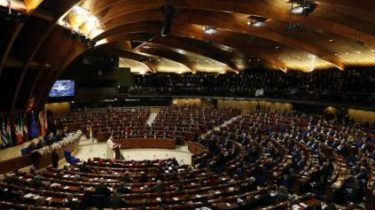 European MPs criticized the new Ukrainian law on education, as Hungary and Romania don't like the rule that in middle school the children will be taught in the Ukrainian language. PACE calls on Ukraine to change the law, if required by the Venice Commission, said in the story TSN.19:30.
Delegates from Hungary, Romania and Moldova expressed emotionally and talked about attempts to suppress Ukraine identity of national minorities. "Ukraine already has a complicated relationship to its Eastern borders. Better not to do so, to have a complex relationship, and on the Western borders. Especially with friends who are in the European Union and NATO," – warned the head of the Hungarian delegation Zsolt Nemeth.
Video settings PACE criticized the new Ukrainian law on education
TSN. 19:30
Yesterday, 19:58
Facebook

VKontakte

Google+

Twitter

Viber
The Ukrainian delegation explains this power struggle is for the electorate in Hungary. "I would like to believe: that arranged today Romanians and Hungarians is only the domestic games for the electorate and not hidden territorial claims to Ukraine", – said the representative of Ukraine Iryna Gerashchenko.
See also:
Hungary plays "dirty nationalist policy" because of the law on education in Ukraine – Bildt
The PACE resolution voted by 82 deputies, against 11. The main claim – the Ukrainian authorities are not held consultations with representatives of national minorities before the law. "We have now passed a clear resolution, and waiting for the conclusions of the Venice Commission. If until will sound the issue of sanctions against Ukraine, it will not find the support of the majority," he assured the delegate from Germany Axel Fischer. "Until the end of the year should be the decision of the Commission. In principle, from the legal point of view for Ukraine, absolutely nothing has changed," said the Ukrainian representative Volodymyr Ariev.
Tomorrow in Budapest planned action under the Ukrainian Embassy in support of "self-determination of Transcarpathia". A PACE to the Ukrainian law on education will be back on the winter session in January of the following year.
As previously reported, the Ukrainian law on education, which provoked a storm of protest, particularly in Hungary, discussed in the parliamentary Assembly of the Council of Europe. In Budapest considers it discriminatory and talking about forced Ukrainization. In a sharp tone of Budapest is threatening Ukraine with European sanctions. The Minister of foreign Affairs of Ukraine Pavlo Klimkin in Hungary, stated that Ukraine is ready for constructive dialogue regarding the "linguistic norm" of the law on education, and noted that Russia for many years uses the language issue in their political manipulations.
The TSN correspondent Natalia Fiebrig
Comments
comments