The fog from the sewers: in Kiev at the Lobanovsky Avenue burst pipe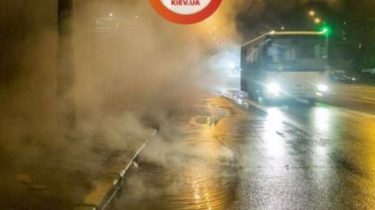 The evening of 12 October on the prospect of Lobanovsky in Kiev burst pipes hot water.
It is reported dtp.ua in Facebook.
As a result, the area flooded with water from manhole. From the hot water rose into the air steam.
Anyone out there no hot water? Go outside!:) The evening of 12 October on the Avenue Dynamo burst pipes hot…
Posted by Vlad will Antonovym 12 Zhovtnya 2017 R.
Pipe burst on the Avenue Dynamo, 126 — opposite the gas station "ANP". The probable cause of the incident could be the beginning of the heating season.
Near the place where the pipe burst, have already formed a large puddle. Despite the fact that the water from the manhole all the time comes. As a result, in the air formed a vapour, like heavy fog.
See also:
Multimeter "geyser": in Kiev there was a powerful burst pipe with hot water
We will remind that earlier video, which recorded the time of break of a pipe in the Kiev goloseyevsky Avenue, three days has collected more than 2.5 million hits on the TSN page in Facebook.
Unique footage from three surveillance cameras TSN published on may 29, the day of the accident. Most of the world media used the video of TSN in their submissions, in particular, ABC News, CNN and others.
We will remind, the accident occurred as a result of a breakthrough pipe with a diameter of 80 cm. According to eyewitnesses, the fountain of the water reached the 7th floor, broke Windows of buildings and parked cars. A funnel formed, is at least 20-30 meters. In "Kyivenergo" promise that the damage to the victims will be compensated in the manner prescribed by law.
Comments
comments