Soldiers ATO will pay the prize to the Day of defender – Poroshenko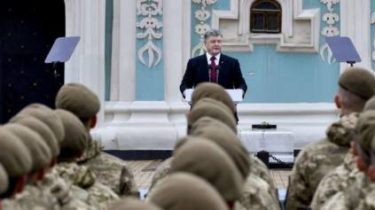 All military who serve in a zone of carrying out anti-terrorist operation, will pay premiums. The President of Ukraine Petro Poroshenko said in the Zhytomyr region, where he presented state awards to servicemen.
"I gave the order to the Minister of defence Poltorak Stepan tymofiiovych to the Day of defender of the Fatherland in addition to the standard provision to pay holiday bonuses to the military personnel who now perform tasks in the East of Ukraine", – said Poroshenko.
Military on the first line needs to get at least 3 thousand, on the second and third – at least a thousand. The President stressed that he expects the implementation of the order in October.
In addition to the end of the year the Ukrainian army will receive more than a thousand pieces of military equipment, in addition to the 1.3 million that have already been received this year.
Recall that today in Ukraine celebrate day of the defender. This morning the President took part in a solemn service, where he prayed for the lives of soldiers and peace in the country, and then attended the ceremony of the oath of cadets of the Bohun Lyceum.
Comments
comments