The SBU said about possible provocations of the Church and called them potential organizers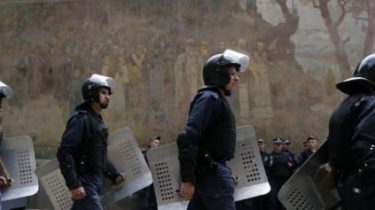 For possible provocations in Kiev buildings of the Ukrainian Orthodox Church of the Moscow Patriarchate are members of the so-called "Committee of rescue of Ukraine" – former Ukrainian politicians and fugitives to Russia.
"In recent days, Russian and some domestic media actively disseminate information regarding provocations, which allegedly prepared the Ukrainian national-Patriotic forces against religious buildings of the UOC-MP in Kyiv. The security service of Ukraine officially informs that actually attempts to these provocations and their information support directly are the representatives of the so-called "Committee of rescue of Ukraine", which will be responsible for organizing mass killings of civilians during the revolution of Dignity and the unleashing of military aggression of Russia against Ukraine", – stated in the message of security Service of Ukraine.
See also:
SBU hinted that Russia may make some of the most "dirty provocation" on the Cover
According to the operative data of the SBU, "to perform the provocation is planned to involve members of the private domestic public organizations, which actively cooperate with Russian intelligence services and their political projects in Ukraine since the beginning of 2000-ies. So, together with representatives of the "Eurasian youth movement" Alexander Dugin pseudo of these organizations involved in the Commission of a number of anti-Ukrainian actions damage the monument to UPA soldiers in Kharkiv in December 2006, the destruction of the memorial sign in honor of the adoption of the Constitution of Ukraine on mount Hoverla in October 2007 and others."
SBU says that "will take comprehensive measures to prevent any provocations and attempts to destabilize the political situation in Kiev and in the country as a whole."
We will remind, "the Committee of rescue of Ukraine" was organized by former Ukrainian officials, who, along with ex-President Viktor Yanukovych fled to Russia. Many of them are wanted, they are under sanctions. "The Committee of rescue of Ukraine" created in 2015, former Prime Minister of Ukraine Mykola Azarov.
Comments
comments