Natsgvardeytsy "tight" blocked the government quarter in Kiev on the eve of mass actions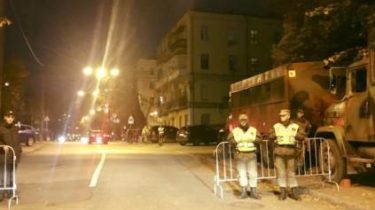 The staff of the National guard blocked the government quarter in Central Kiev.
This is reported by journalist Tatiana Danilenko and people's Deputy Serhiy Leshchenko.
According to the Deputy, netguarder blocked Lutheran street on the outskirts of the AP along the roadside are the military vehicles of the national guard.
Danilenko added that law enforcement officers are training in the courtyard of the October Palace. "Even during the parade on Khreshchatyk was not so many of them. And such a big overlap I have not yet seen," she wrote.
Earlier it was reported that in the center of Kiev on Tuesday, October 17, will cover a number of streets in connection with mass actions of political forces and public organizations. On this day in the center of Kiev plan to share a number of parties and public organizations, among them the party of "new forces" of Mikheil Saakashvili, "Freedom", "Self", "citizenship", Centre of anti-corruption movement "Honestly" and the like.
Comments
comments