Klitschko told where the utility will demolish the Kiosks in the near future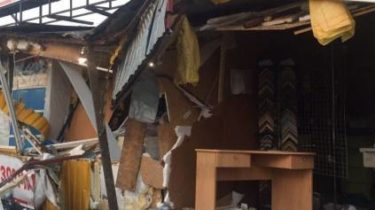 The Metropolitan government plans to dismantle illegal Kiosks in the underpass near the entrance to the metro station "Maidan Nezalezhnosti" in the center of the city.
This was stated by the mayor of Kiev, Vitali Klitschko, visited the metro station "Kharkiv", where previously demolished a great number of stalls.
See also:
In the Kiev housing and communal services for bulldozers under the guise of "Aydar" destroyed Mafy at the Kharkov array
"Our key task is to the underground station was used for its intended purpose – as a safe transport infrastructure. Transitions is intended solely for the fact that people freely came and went from the subway. And this is not a place for illegal trade," he stressed, promising that the city authorities will continue the dismantling of illegal Kiosks in the subway.
Klitschko also said that in 2012 the Ministry of infrastructure approved the Rules of fire safety in the subway, which did not correspond to 63% of MAF in the Kyiv subway. After that, the head of the metro Viktor Braginsky was mandated to ensure the implementation of legislation.
See also:
Have CIV to salesat MAFI, that not psout "Sunny Poglyad" and "not postojati Peresuvna Pskov" – Klitschko
"By the courts, we are the illegal sale of removed. Now the subway looks completely different. At the metro station "Kharkiv" the situation is more or less normal. Where was the MAF, damaged the walls and tiles, it is necessary to improvement," he added, noting that within two weeks the kiosks at the metro station, which ended contracts, must be dismantled independently, otherwise they will carry the utility.
However, Klitschko assured that all the Kiosks in the subway was dismantled only with the participation of state performers, and by the court. Just demolished kiosks at more than 3 thousand square meters for 165 contracts.
We will remind, earlier near the metro station "Polytechnic Institute" dismantled about 15 illegally installed Kiosks.
"On the site of the dismantled stalls, the utility will conduct landscaping and will plant trees and gardens area. Thanks to the coordinated work of the staff improvement and the national police, the dismantling took place in a regular mode", – said the Director of the Department of urban development and the preservation of the natural environment of the Kyiv city state administration Andriy Fishchuk.
Comments
comments