Poklonskaya denied the existence of her Ukrainian citizenship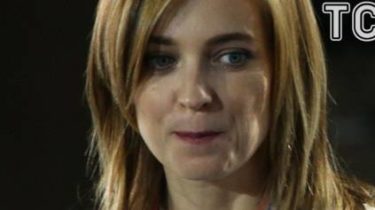 The Deputy of the state Duma of the Russian Federation and the former"Prosecutor" Russia-occupied Crimea Natalia Poklonskaya denied the presence of her Ukrainian citizenship, as reported in the official answer of presidential administration of the President of Petro Poroshenko.
About it reports RBC.
See also:
"I e*at the Deputy over poklonsky". Efremov read the verse about the "nyash-myash" and the movie "Matilda"
Poklonskaya said that the decree on deprivation of citizenship was signed by Viktor Yanukovych: "In March 2014, in the prescribed manner I was released from the citizenship of Ukraine and is the citizen of Russia". According to her, Yanukovych signed a corresponding decree on 21 March 2014. She added that "he was in Rostov and was the legitimate President".
Poklonskaya also referred to the document with the signature of the President of Ukraine Petro Poroshenko on 26 March 2016 about personal sanctions against those who were related to the case Savchenko, Sentsov and Kolchenko, where the former "Prosecutor" of Crimea listed as a Russian citizen. "A little confused," she said.
According to the law of the Russian Federation, a person with dual citizenship may not be elected to the Duma.
"According to the law of 1994 on the status of a member of the Council of Federation and status of Deputy of the state Duma prohibit the practice. In the third paragraph of the first article clearly stated that the Russian Deputy is not entitled to be a citizen of another country, except Russia. You may recall a few such accusations, after which relevant Committee of the state Duma has considered such cases, but, as I recall, none of the MPs for dual nationality was not involved," – said managing partner of law Bureau "Dmitry Matveev and partners" Dmitry Matveev.
A lawyer Vadim Prokhorov added that persons with dual citizenship can't run. "Election commissions at all levels to carefully monitoring the situation, because dual citizenship is supposedly important for the security of the country," he added.
Video settings Russia jokingly propose to canonize Natalia Polonskaya
TSN. Week
15 Oct, 21:38
Facebook

VKontakte

Google+

Twitter

Viber
Recall that Poklonskaya, who previously worked in the Prosecutor's office of Ukraine, has long had a Russian citizenship. In 2016, it was elected to the State Duma from Putin's "United Russia". The Verkhovna Rada recognized the elections to the state Duma as illegitimate, as their holding in the temporarily occupied territory of Crimea is a violation of the Constitution.
Comments
comments