The knot of problems in Ukraine it is necessary to untangle and not to razrulivat – Putin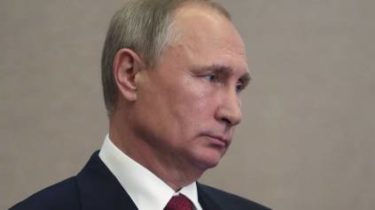 Russian President Vladimir Putin has accused Europe of double standards in the approach to the question of the separation of regions in an independent state. The master of the Kremlin has mentioned Ukraine, UNIAN reports.
"Any conflict should be solved in a civilized way. Russia has always advocated such an approach. Firmly convinced that even the most complex nodes, whether the crisis in Syria or in Libya, the Korean Peninsula, say, or Ukraine – it is necessary to untangle and not cut," said Putin.
Videobrain responded to Putin's threats
TSN. 16:45
5 Sep, 17:06
Facebook

1

VKontakte

Google+

1

Twitter

Viber
The Russian leader referred to the situation of Catalonia in Spain and stated that the unanimous condemnation of supporters of independence of the EU is contrary to the previous greeting the Declaration of independence of Kosovo and separation from Serbia. "When Crimea, for example, declared their independence, and then in the result of the referendum on accession to Russia, for some reason didn't like it. And now, please, Catalonia. In another region – Kurdistan. And it may be, is not an exhaustive list," – said Putin.
See also:
Assistant Putin and the leader of "DNR" Zakharchenko was opened in Rostov the monument to the fighters
The Russian leader added that "such double standards pose a serious threat to the stable development of Europe and other continents, to promote integration processes in the world." Attempt to secede from the Russian Federation of Chechnya in past years, Putin in this context is not mentioned.
Comments
comments