Unexpected arithmetic. "Ukrposhta" increased tariffs and call it zero growth of prices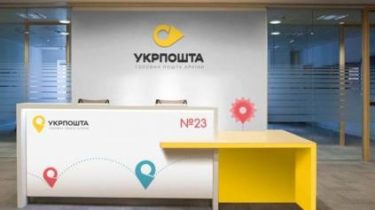 From 1 January 2018 "Ukrposhta" will increase the cost of their services an average of 16%. In particular, the forwarding of mail in Ukraine will grow by 12.3%, abroad – by 43.2%.
Such figures lead the national Commission, carrying out state regulation in the sphere of communications and Informatization that have already adopted the new marginal tariffs for universal postal services.
At the same time "Ukrpochta" States that it "simplifies and lowers rates for universal services for the main types of shipments". In practice, this will look like. Send letters or postcards up to 20 grams now costs 4 UAH, from 20 to 50 grams – 5 UAH. From January 1, these two rates will merge into one and need to buy a stamp for 5 UAH. "Ukrposhta" claims that the increase will be 0%. In fact, letters have a weight of 20 grams and users of services will have to pay the hryvnia more. Such "arithmetic" "Ukrposhta" applied to other fares. At the same time, letters weighing 1 to 3 kg cheaper twice.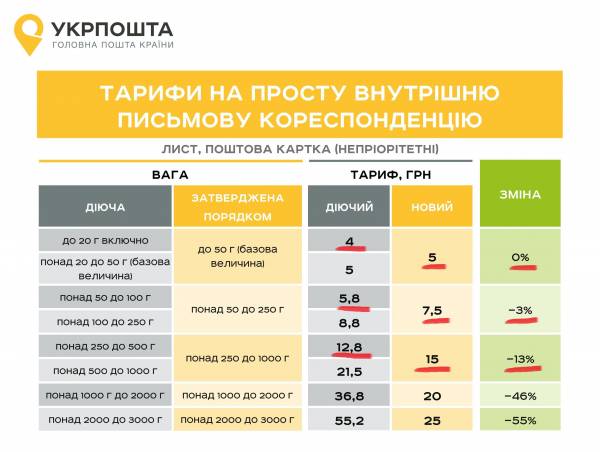 Ukrposhta
Increased tariffs for sending parcels weighing 1 to 3 kg in Ukraine, and from 4 to 10 kg cheaper.
"It was important for us was to align the distortions in the tariffs. Therefore, we simplify and reducible to a single logic. So, the cost of sending parcels of 3 kg was uncompetitive and too big. After the changes the rates are the most affordable on the market of postal and logistics services in all weight categories. And update zoning for international shipments will give the opportunity to develop important customers key directions of forward," said acting Director General "Ukrpochta" Igor smilansky.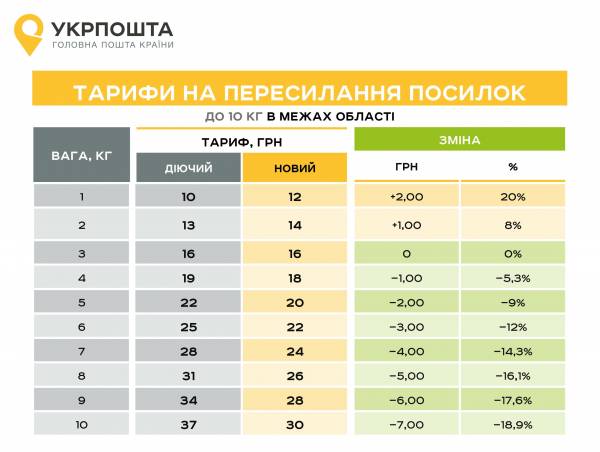 Ukrposhta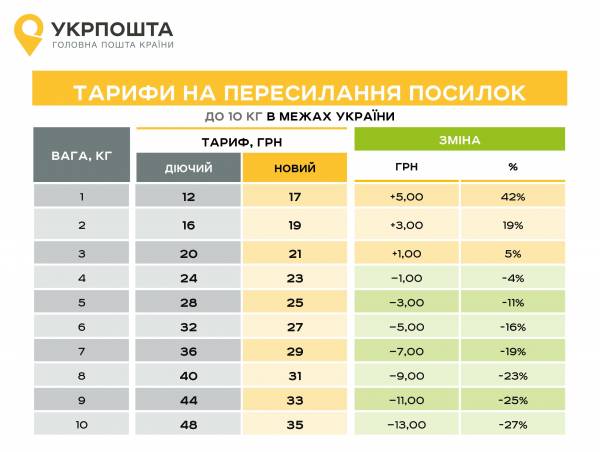 Ukrposhta
Revised international tariffs.
"Unfortunately, the media is spreading wrong information regarding the new tariffs for universal services. I want to reassure customers and to announce that the rising cost of international shipments by 43% (the data of the national Commission – ed.) does not occur, and in most groups the shipping rates even reduced. For example, the cheaper will be simple domestic letter post, parcels weighing more than 3 kg within the region and within Ukraine by reducing the fee for 1 kg. i.e. the larger the weight, the less will be paid by the client. For those who send international parcels weighing up to 10 kg, for example, in the United States, Australia, China, the rate also decreased in the most popular weight 6 to 10 kg", – said the first Deputy General Director of "Ukrposhta" Alexander Pertsovsky.
The increase of the maximum tariffs for universal postal services for international shipping only applies to letters and parcels.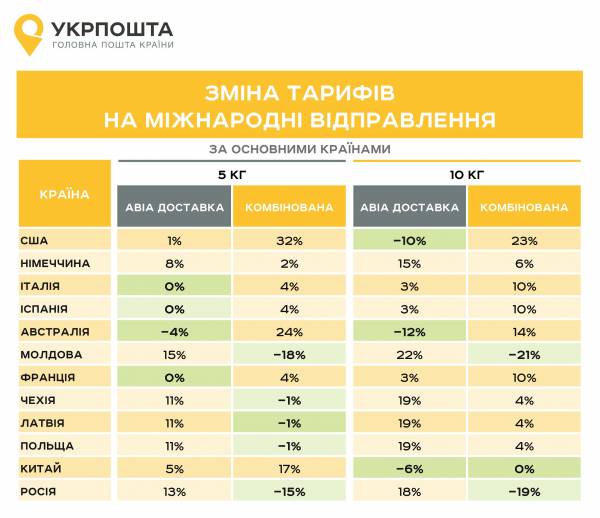 Ukrposhta
Comments
comments