Poklonsky still not deprived of Ukrainian citizenship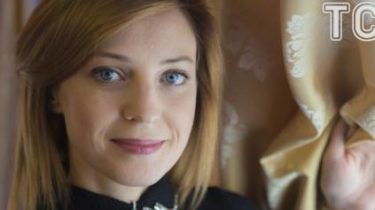 The Deputy of the state Duma of the Russian Federation and the former"Prosecutor" of the occupied Crimea Natalia Poklonskaya still remains a citizen of Ukraine.
This follows from the response of the presidential Administration, which published the "Ukrainian truth", on the request of people's Deputy Serhiy Leshchenko.
Indicated in the letter of information indicates that neither the Migration service nor the Ministry of foreign Affairs or other diplomatic institutions are not sent to the President representation about deprivation Poklonskaya Ukrainian citizenship.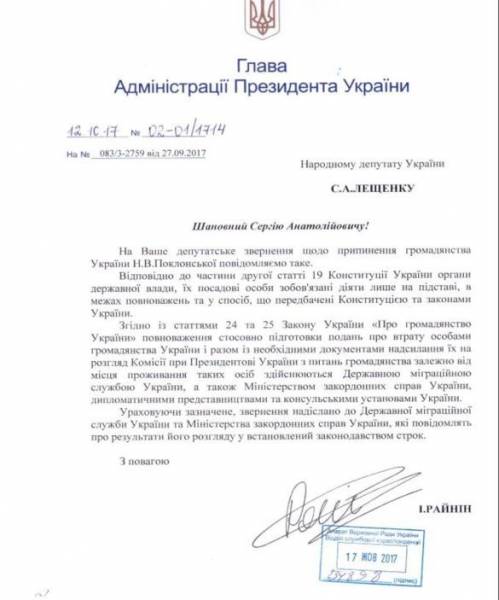 Ukrainian Pravda
See also:
"I e*at the Deputy over poklonsky". Efremov read the verse about the "nyash-myash" and the movie "Matilda"
"In accordance with articles 24 and 25 of the Law On citizenship the authority for the preparation of submissions about the loss of a persons citizenship of Ukraine for consideration of the presidential Commission on citizenship issues carried out by the State migration service, Ministry of foreign Affairs, diplomatic representations and consular institutions," – stated in the message. The Department also noted that they themselves had sent to the migration service and the Ministry of foreign Affairs the appropriate appeal and waiting for response.
See also:
Taylor collected 13 boxes of petitions against the film "Matilda" of the Tsar Nicholas II
Recall that Poklonskaya, who previously worked in the Prosecutor's office of Ukraine, has long had a Russian citizenship. In 2016, it was elected to the State Duma from Putin's "United Russia". The Verkhovna Rada recognized the elections to the state Duma as illegitimate, as their holding in the temporarily occupied territory of Crimea is a violation of the Constitution.
Comments
comments