In Kiev, burst heating pipes and pour boiling water over the store, which almost killed three people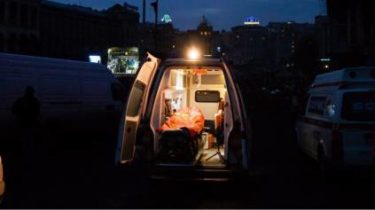 In Kiev on Chokolovsky Boulevard due to heating break flooded the shop of perfumery and cosmetics "eve", which is located in the basement. Almost boiled water flooded up to a metre high and above.
People quickly got out on the street. However, inside the trap left three workers of the store. This reports the press service of gschs.
The first on a call there arrived rescuers of the 3rd State firefighting and rescue part of Kiev.
"In the yard — a crowd of people in panic who were lucky enough to get out of the building and in the room — three defenseless women. All the rooms of the store filled with almost boiling water, from which "the walls are melting", not to mention human flesh. It turned out that in the basement, where the store is located, breakthrough heating, hot water had filled the entire room, level meters and above. There was a struggle between the "How to act and How to act according to conscience", as in the first embodiment, the boiling water had risen still higher, and Kyivvodokanal and Kyivenergo still could not reach the site due to heavy traffic", – stated in the message.
To save the lives of the employees of the store he went into the squad Nikolay Kiselev, Denis firefighter, senior firefighter Switlyk and Alexander Moroz.
"Rescuers took the whole brunt and, ignoring the excruciating pain, made victims of this awful trap. The whole rescue operation (from the moment of arrival of rescuers) took less than 15 minutes, however, for each participant this situation apparently lasted for hours. All three victims immediately handed over to the medics and was admitted to the hospital, they have injured arms and legs", – noted in gschs.
During the rescue operation suffered and senior firefighter Alexander frost, he, too, was hospitalized. Went to the commander of the Department Nikolay Kiselev.
"It's nothing" he said and returned with other men to the location for further service.
Comments
comments