Poroshenko announced the rotation of military, who are now in "hell" of war in the Donbas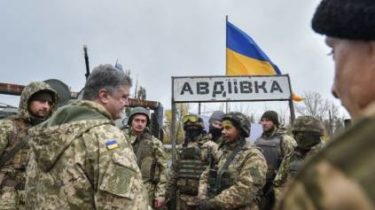 In the near future in the area of ATO in the Donbas will be the rotation of the Ukrainian military crews of No. 72, 14, 92 and 53. They will return to places of their permanent deployment – in the Volyn region, in Bila Tserkva in the Kyiv region in Chuguev in Kharkiv and Severodonetsk in the Luhansk region.
This was during a visit to the ATO zone was announced by the President of Ukraine Petro Poroshenko, reports his press-service.
"Your replacement come the other teams that will be hard to keep your positions," – said Poroshenko.
The President, in particular, visited the 72 brigade in Avdiivka in the Donetsk region, in the area where the militants always make such fierce attacks.
"Not only the town, but every area of your responsibility has become a symbol of courage. Avdeevka, candy bar today, it is not necessary to translate any language in the world. She joined as symbols of the Donetsk airport and many other positions, where the glorious Ukrainian army held their ground and demonstrated the glory of the Ukrainian army", – said Poroshenko.
The President handed over certificates of awarding the best members of this team.
Poroshenko also discussed with soldiers the situation at the front, questions about clothing, food, monetary and material provisions.
Comments
comments