Half a flat in the residential complex "New England" for Apple's record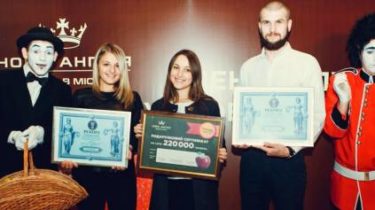 Company news
The main prize for the owner of a record – half a flat in the LCD "New England".
And the record holder was Maria Bank, the length of Apple peel that she cut is 10 m and 82 cm: "my sister all night, cut the skin of apples, training was transferred almost 5 pounds," jokes Maria, "I am very grateful to "New England" for this opportunity and a valuable gift", – says Maria.
Second place was won by Elena Martynyuk with a score of 10 m and 78 cm And Elena not left without a gift – she will spend a quiet day in the Wellness centre Equides club. Third place – Artem Butim with the length of Apple peel 10 m and 34 cm, he received a certificate for passing a master class in Golf in the family equestrian club Equides club.
The judges, who recorded the results were:
Vitaliy Zorin, expert of the National Registry of records of Ukraine.
Alexander Lukyanenko, chef of the Mexican restaurant and tequila bar's Tequila House.
Hasmik Gasparyan, the winner of cooking show Masterchef-6.
The results of the participants was pleasantly surprised by Vitaliy Zorin: "At the beginning of registration, I was sure that the maximum length of Apple peel will not be more than 7-8 meters. And now, I must admit that the results exceeded all my expectations."
Most impressed Alexander Lukyanenko , with some delicacy, some participants reacted to the task! In some places the width of the slice reached 2-2. 5 mm: "I didn't even expect to be so high results, that is technical performance of this record".
Enthused about the Record and Hasmik Gasparyan: "I was surprised how gently, nervously, with trembling hands, the participants laid out a fragrant skin. Also unusual for me was that the participants had their own methods and tools. And of course "New England" is a pretty strong motivator! Let it be a cozy hearth of Mary! Waiting for new home".
To establish the national record was registered about 200 participants and 40 were selected. The idea of a record was born thanks to the LCD "New England": "Apple Day is a fairly common holiday in England, competition for the purification of Apple peel is very popular. In 1976 was a record that no one has yet managed beaten. We figured, Hey, what the record would be able to install the Ukrainians?! Almost 11 metres – this is an unexpected result. We congratulate Maria with the establishment of the first Record. But we will not stop here and want to beat the record of the UK. Therefore, there is a year for training, to cut the Apple peel over 53 meters", – shared his impressions in the "New England".
Comments
comments