Migration service confirmed its refusal Saakashvili refugee status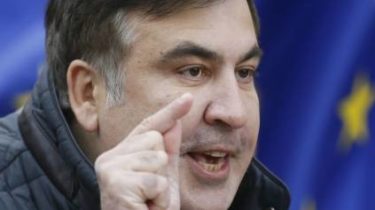 The state migration service refused to Mikheil Saakashvili's policy of recognition as a refugee or a person in need of complementary or temporary protection.
The corresponding statement was published by the Agency on its website.
According to the report, 11 September at 9:00 in the office of the Main Department of LCA in the Lviv region, an unidentified group of four left the statement for providing additional protection on behalf of Saakashvili. The statement was accompanied by a copy of the passport of the citizen of Ukraine.
The Agency within the 30 day period, refused to consider this statement in connection with the fact that it was filed with violations. In particular, paragraph 8 of article 1 (application form) and article 7 (the application must be submitted personally or through a legal representative) of the Law "On refugees and persons needing additional or temporary protection".
"Now Saakashvili ignores the issues of the settlement of its legal status in Ukraine, which gives reasonable grounds to the competent authorities to undertake the procedural activities associated with leaving the territory of Ukraine exclusively within the framework of the current legislation", – said the migration service.
See also:
Obstacles to deportation no: Lutsenko announced that Saakashvili had not obtained refugee status
Recall that Saakashvili was deprived of citizenship in late July, when he was outside Ukraine. He is a politician went back on September 10. He entered the territory of Ukraine through KP "shehyni" that in Lviv region, although I was going to make it through KP "Krakovets". The border, he got the bus and crossed it illegally, along with 60 others. Some of them have used force against the guards. The court found the politician guilty of illegally crossing the Ukrainian border and ordered to pay 3400 hryvnias of a penalty plus court fee 300 UAH.
The Ministry of justice of Ukraine received a request from the Prosecutor's office of Georgia for the arrest and extradition of Saakashvili. In Georgia the politician is charged with four criminal counts. He faces up to 11 years of imprisonment.
Saakashvili filed a petition to grant him political asylum in Ukraine.
Videomichael Saakashvili in court is going to resume their Ukrainian citizenship
TSN. 19:30
13 Oct, 20:11
Facebook

1

VKontakte

1

Google+

2

Twitter

Viber
Comments
comments