Security forces in the Svyatoshinsky court slapped and detained the journalist. Activists in the blood brought into a paddy wagon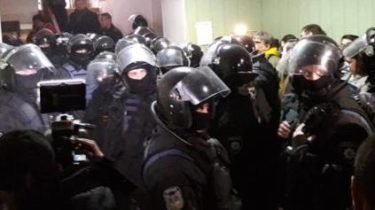 The commandos in the Svyatoshinsky district court of Kiev arrested the correspondent of the UNIAN Sergei Lefter and about 20 activists who blocked the courthouse.
About it reports the UNIAN.
See also:
Kohanivsky was summoned for questioning over the riots in Russian banks
According to Lefter, activists brought in a paddy wagon, some of them on the face of the blood. The correspondent of the UNIAN declared that he was beaten several times, despite the fact that he was screaming that he is a journalist, and he pulled out a card.
pic.twitter.com/ioxIFyo9wz
— Oksana Kovalenko (@superumka) 24 Oct 2017
At the same time the people's Deputy Igor Mosiychuk reported that supporters Kohanivsky failed to agree on holding a court session on election of a preventive measure.
"Special forces went on a brutal assault on the barricaded activists… some of the people detained. Part still holding in the middle," – he wrote in Facebook.
Comments
comments