The storm of the Svyatoshinsky court: riot policemen beat the journalists and broke the technique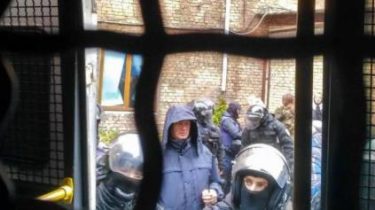 Commandos in svyatoshynskyi district court beat two journalists and two detained.
See also:
The police opened criminal proceedings for the pogrom in the Svyatoshinsky district court
So, the Executive Director of the Institute of mass information Oksana Romanyuk, said that the security forces "put the journalist's "Public" Dmitry Replance to the ground and beaten with legs and hands, trying to wring his smashed camera".
What's going on there under Svyatoshinsky regional court? The national police of Ukraine , the commandos put journalist GROMACS…
Posted by Oksana Romaniuk on Tuesday, October 24, 2017
The journalist told the police that is representative of the media and showed the certificate.
"All these actions were recorded on camera, which the militiamen broke," she said.
In addition, it was found that the police had beaten and detained the journalist of the online newspaper "the Country" Kirill Malyshev. This was reported by his colleague Valeria Ivashkina.
"Press card, which he showed police just knocked from his hands. It and troublemakers took away in the unknown direction", – she said in Facebook.
The police mistakenly arrested the journalist, "Country" Kirill Malyshev during Stripping Sviatoshynsky court. Cyril yesterday and today…
Posted by Valeriya Ivashkina on Tuesday, October 24, 2017
Informed Agency UNIAN reported the beating and detention of a private the journalist in court Sergey Lefter. Was also arrested 20 activists – some of them the face was covered in blood.
The detainees were taken to Kyiv Directorate of the National police, reported in Facebook the people's Deputy Igor Mosiychuk.
Yesterday, October 23, Svyatoshinsky court of Kyiv to elect a measure of restraint for the head of the volunteer movement, the OUN Nikolay Kohanivsky, which I suspect in shooting from a pneumatic pistol during the fight with the ex-commander of one of platoons of the "Right sector" Ruslan Camalou.
The court could not elect a measure of restraint Kohanivsky and moved the meeting on the morning of October 24. After making this decision, the activists blocked the courtroom, not to allow law enforcement officers to take the leader of the volunteer battalion OUN in the detention center.
The police used gas against activists. After that, they were forced to leave the court building through a window. But then they came back and smashed furniture in the courtroom.
We will remind, on October 21, near the metro station "Akademgorodok" was a fight with the shooting. Nikolay Kohanivsky there was a verbal conflict with the ex-commander of one of platoons of the "Right sector" Ruslan Camalou, during which the head of the volunteer movement, the OUN (probably from the device for shooting of rubber bullets) fired several shots at the stranger. As a result, the victim – tangential wounds in the back and leg (assistance was provided on site).
Comments
comments