Yelchenko to the UN told, many Ukrainians have been displaced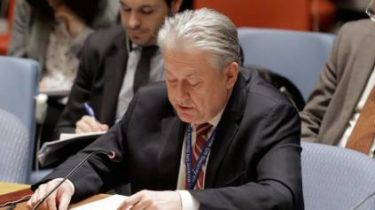 At least 1.6 million Ukrainian citizens have become internally displaced in 2014, more than 3.8 million people in need of humanitarian assistance due to Russian military aggression and occupation.
This statement was made at a press briefing the UN on the humanitarian situation, the Ambassador of Ukraine Vladimir elchenko, writes UKRINFORM.
"About 1.6 million Ukrainians were forced to leave their homes and register as IDPs, accounting for four percent of the total population of Ukraine", – said the Ukrainian diplomat.
Due to Russian military aggression Ukraine is experiencing the most serious humanitarian problem since independence. "More than 3.8 million people that live on both sides of the "contact line", in need of humanitarian assistance," – said Yelchenko.
The situation is aggravated by the continuing violations of the ceasefire and the threat of armed escalation on the part of the neighboring aggressor state, which also affects the state of the economy in Ukraine.
"Ukraine, as a state develops, was forced to raise the level of spending on national security and defense to 5% of GDP though (difficult – ed.) the economic situation in the country", – said the head of the Mission.
In this regard, Egypt has thanked the international partners for their participation in developing the plan the humanitarian response to the situation in Ukraine and called on donors to redouble efforts to fill the plan.
See also:
Displaced persons from the Donbas summer residents like for life Chernobyl zone
However, the Ukrainian representative noted that the deployment of the UN peacekeeping mission to restore control over the state border in the conflict zone are able to contribute to a comprehensive settlement of the conflict in the Donbass.
We will remind that earlier in Ukraine has created a controversial Board game about the settlers.
Comments
comments