Groisman put to the Ministers an ultimatum because pressure on business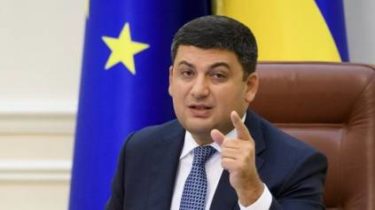 Prime Minister Volodymyr Groysman urged Ministers to resign if their Department can't interfere with business to work in the country.
He stated this during a Cabinet meeting.
"I demand from Ministerial colleagues, each of you has your controllable structures and these structures are sound like those who interfere quickly and efficiently to do his business in the country. We talked about Gosgeokadastre, there are complaints on Ukrtransinspektion from business, permission not given, then require something in the permissions. There are complaints to the labor Inspectorate… they do not know what you do, go milk business. Have questions on environmental inspections. Business talking about it, these are not my words. Also Gosarhstroyinspektsiya. I emphasize, so things continue to go can not. Or you are able to minimize any procedures, make them available and friendly to entrepreneurship so they did not hold back the development of the national economy, or a sign of his failure and leave office," – said Groisman.
See also:
The Ombudsman explained the growth in the number of complaints from business police officers
He called to overcome this situation and stressed that to put up with it.
"The head of Gosgeokadastr first but not the last," – said the head of government.
We will remind, the head of Gosgeokadastr removed from office for abuse. The acting Minister Oleg Svaha was suspended from duty because of allegations of abuse. This was said yesterday by the Prime Minister of Ukraine Volodymyr Groysman during the meeting of the regional development Council.
"Mr. Zwach, from this moment on you are relieved of performance of their duties," – said Groisman.
According to the head of the government, will soon be under investigation.
Comments
comments