Personal "guard" Zakharchenko. Leader of the "DNR" protect crane operators and fireman children's sanatorium of the Russian Federation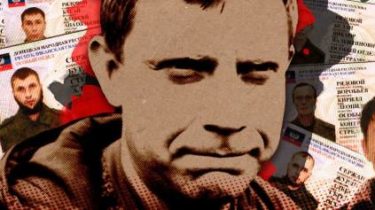 Counterintelligence of SBU together with TSN.ia continues to inform the public about the citizens who already for a long time on the occupied territory of Donetsk region.
In previous publications it was about destroyed in Syria General Valerie Asabove and major-General Valerie Sharapova who took part in military operations on Donbass, and also about the General-Lieutenant Michael Teplinskaya, the arrival of which in the occupied territory was equivalent to Armageddon.
See also:
A common thief and "the hero-lover". Russian Colonel "Demons" driving to battle militants in the Donbas
In the political field in the Donbass, noted the Russian nationalist Latvian origin, Aleksandr Kazakov, who became the image maker of the leader "DNR" Alexander Zakharchenko.
Also the attention of the scouts caught the so-called former attorney General "DNR" Ravil Khalikov, who took two Chechen wars and took part in the annexation of the Crimea. And major General of the armed forces of the Russian Federation Igor Timofeev, who in his interview told about the high purposes of military service, in the "DNR" has become a common thief, organizing cigarette smuggling and products.
The Guards Zakharchenko
At this time, the counterintelligence of SBU provided data on six smaller representatives of the "color" of the Russian nation. Judging by their documents, all of them are "service" in the so-called "counter-intelligence special branch WGSR DNR".
Notable in the biographies of these people is that they are not from the military, and the usual guards, crane operators, guards jail, unemployed, there's even a fireman children's sanatorium. Geography is also a wide Vologda and Pskov oblasts, Altai, Yakutia, Novosibirsk. All divorced or not married. No one has higher education.
Comments
comments