In Donetsk, miss Ukraine: released scientist Kozlowski gave his first interview. Exclusive to TSN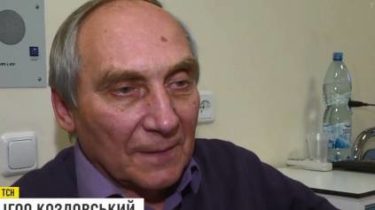 Religious scientist Igor Kozlovsky in the status of hostages of terrorists "DNR" conducted almost two years, and all this time the famous Ukrainians staged protests demanding the release of patient professors from Donetsk basement. In order not to lose their mind in prison, a man doing exercise, yoga and thought about the disciples and Ukraine, says the story TSN.19:30.
Journalists he met in the house of the Kiev hospital neat and dressed in a clean shirt, which brought a son, Alexander. This interview was the first scholar after him in January 2016 in the center of Donetsk seized by the militants and accused Pro-Ukrainian position. "Almost all left there. And books – a lot of them really, they are not exported. Those that wrote there have left those still there. Guys read there, they say they help," he begins. But immediately adds that the most important thing have taken with them. "The most important memories. They are all in the head. Do they have a tradition to not to take anything from places of deprivation of liberty," he explained.
Videoproducer Igor Kozlovsky told the details of the stay in prison "DNR"
Not to go crazy in the Donetsk prison helped him exercises from yoga and awareness support a free Ukraine and the accusations that all of his disciples for Ukraine, he answered his executioners that happy. Scientist Igor Kozlovsky nearly two years spent in the basement of the pseudorandomly.
TSN. 19:30
Yesterday, 19:54
Facebook

1

VKontakte

Google+

Twitter

1

Viber
Kozlowski admitted that literature behind bars is perceived differently than in free life. "Most ordinary people work and don't have time to read books or to improve yourself. And there are forced – or you can go crazy, or you're growing. Therefore, the literature, the normal communication play an important role to make a person with out of my mind. Because there is a huge psychological pressure and moral pressure. First are the conditions of stay. If a person is "in the basement" or in small cells – there is no normal communication, people need. And then the cellars of the prison, which in Soviet times was kept of those facing the death penalty. Then those who are serving a life sentence, and we all kept there. They now keep many people, especially people who disagree with the events that take place there. In the colonies there the situation is better, although not always. In 97-th of the colony, where our military, said the difficult conditions. Where have I been – easier", – said the scientist.
According to him, in the illegal detention, he met interesting people. "There were a lot of Dating. The people who were in such circumstances, support each other, and I think it also will support. And local, and those who fought on the side "militias", and with our children – those who were released. We have such mass support. If analyzed, most of those who began in 2014-15 to fight, now in the colonies. According to different articles. Most on fabricated charges, threw something, for example, or indeed for the crimes committed – robbery, theft. It seems that this is politics. This impression, though I can't say reliably. If the deliberate rewriting of history. So happens in history when a revolution happens, and then destroyed those who did it. We see this from the French revolution. Any event, even separatist, have the same scenario," – said the scientist.
Kozlovsky believes that the local is not very happy with what is happening in the occupied territory of Donbass. "Many of them yearn for the days when I was in Ukraine. They can't say it openly, it is regarded as propaganda and support for Ukraine, although these people may not be Pro-Ukrainian. Just ordinary people who live their lives and wish she was the same as before. Now they have these conditions, and they miss the normal things. For example, for Ukrainian products, or for the days when there was no curfew, quiet situation. There are people who would like to come back on Ukraine but they somehow participated in some events. Even if not at war, but there are fears that Ukraine will come, and they will be behind bars. Therefore they hope there will be Amnesty and all will be quiet," said the released hostage.
See also:
A court in Kyiv was summoned to a meeting captured by militants "DNR" scientist Igor Kozlovsky
About yourself Kozlovsky also said that on his personal pressure is not provided. "Even from the beginning when it was a "basement", I immediately said – you are a Mature man, to convince of something you are not going to know your Pro-Ukrainian position, you demonstrate, we are not going to convince you, to spend time. To say that psychological pressure to me – so hard to say. I can say that in the colonies properly treated and considered my position. Saying – we are out of politics here, it's just a mode where we all are," he said. The result, according to the Professor, has become a relatively loyal attitude on the part of the guards. "Not allowed to have a phone that I had no connection with Ukraine. Less I have been able to communicate with a circle of prisoners who are there, so less influence. Who came up to me, I always shared, and helped. I was allowed to have a different mode – not very early rise. I was supporting myself physically engaged in exercise, breathing practices. Your routine eating the food I had. Wrote, there are manuscripts, even wrote poems. There are TVs to watch allowed. The Ukrainian channels there is almost no. Russian or local channels. I watched, as the researcher, to understand the mechanism of influence on people, information war. This mechanism is simple, simple mind control techniques. If there is no other product, people eat this product," he said. And added that it had information about the support of Ukraine. "Yes, I knew what was happening, I was told. Know that I support strong in Ukraine. And I am grateful to all the media, and Vakarchuk and Jamal, and the President, Irina Gerashchenko, all I am grateful. Supported me and I passed from the Ukraine and food, and so on, and the disciples passed", – said the scientist.
See also:
The militants sent Kozlovsky Ukrainian scientist in colony
At the same time, he realizes that was not all. "When I went to the colony, told me that the person who stood there "in jail", hanged himself. Despite the fact that the charges were far-fetched – he just rented an apartment to a man accused of espionage. He said that it will give a lifetime, and he hanged himself. There are such cases, someone does not stand up and breaks down", – he stated. Kozlovskiy added that it was terrible but first. "Especially in the beginning, when they brought in the "basement" and you don't understand what's going on. And yet there remains when your child is terrible. But not for themselves, for relatives," he explained. His sick son he hopes to see the end of the week, the end of all surveys. "His 31st birthday, we have a double holiday," said the released prisoner.
See also:
Amnesty International called Kozlowski a prisoner of conscience after a "military court DNR"
Kozlowski also shared plans for the future. "There are huge plans and research, and teaching. We have to work, and to release those who were there, it was also our task. We must make Ukraine happy. We must teach people to love. Love is not only emotion, this work is huge, which is not given immediately. Yeah, I was asking what makes me such a fate and why I have such an experience. Answer I don't know, probably the way it should be," he admitted. "All wars end. People are tired. And we were tired and they were tired. We need to start a dialogue. There is a dialogue – political, and it is necessary to talk to people. At the social level. Find something in common, we should do it", – says the scientist. According to him, he was able to communicate and convince people in Donetsk. "One of the charges that I was told there "MGB" that all of my students somehow Pro-Ukrainian. It's amazing for the region, and that they had not left, stayed and played with the position of Ukraine", – he explained. And added that responded to this accusation is simple: "I'm happy".
The TSN reporter Nellie Kowalski
Donetsk
hostages
Kozlovsky
Kovalska
Saw a bug — Ctrl+Enter
Letter to the editor
© Materials
TSN
Leave your comment
Leave your comment
All comments
Always
deployed
Editor's choice
Comments
comments