Budget, "Borispol" and the passengers: who in Ukraine has benefited from the emergence of Ryanair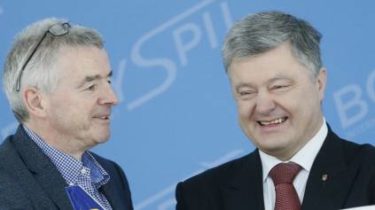 Budget, "Borispol" and the passengers: who in Ukraine has benefited from the emergence of Ryanair
Poroshenko, Ryanair, Michael O'leary © Reuters
Money
23 Mar, 22:57
The number of comments

4

The number of views

1033
Facebook

VKontakte

Google+

Twitter

Telegram
Cheap airlines will begin to operate at full from October 2018.
The world largest low-cost airline company Ryanair in autumn will be flying from Ukraine. Last year the Irish were planning to open flights and even began to sell tickets, but at the last moment the deal fell through, according to a story TSN.19:30.
This time the ceremony of signing of the contract at the airport "Borispol" there arrived the President of Petro Poroshenko. "The largest airline in the world, which carried last year 140 million passengers", – explained his attention to this event the head of state. Guide Ryanair did not hide his surprise from the presence of the President. "Honestly, it's very unusual that the President personally comes to such events", – said the representative of loukoster.
Videocracy airports managed to sign an agreement with the largest airline in the world
Ryanair already in the autumn will be flying from Ukraine. Last year, the Irish are also planning to open flights from Ukraine even began to sell tickets. However, at the last moment the deal fell through. The company was unable to negotiate with the airport Borispol. And today, the airline officially signed contracts with two airports – Boryspil and Lviv.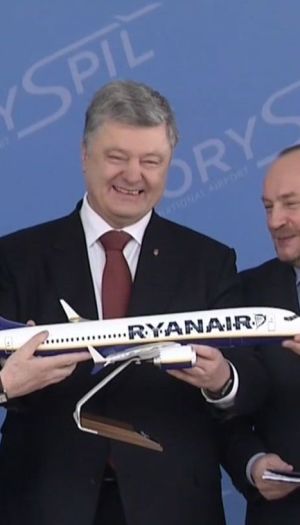 TSN. 19:30
23 Mar, 20:06
Facebook

VKontakte

Google+

Twitter

Telegram
On the emergence of Ryanair in Ukraine began to talk in 2017. First, the Ministry of Infrastructure signed a Memorandum of understanding with the Irish carrier then promised ultra low rates for service. Subsequently, however, Boryspil said that the international carrier has requested too onerous conditions – foreigners even require a percentage of the sales of goods in the airport shops. The contract was never signed, but the company, slamming the door, returned to the negotiations. Why – explain figuratively. "We believed Kiev attractive. Lions are very attractive. We danced, stepping on each other's feet, fought, and finally to dance again" – figuratively described this process chief Executive officer Michael O'leary.
See also:
Architecture, Souvenirs and Goodies: a guide to the cities of Europe, in Kiev will fly Ryanair
At the airport claim that the conditions today are the same for most carriers. "We signed with a Ryanair contract, which is signed by more than 12 companies working in Ukraine", – said the General Director of the airport Paul Ryabikin. "The contract model. All the conditions for companies can be seen on the website of the airport", – said the Minister of infrastructure Vladimir Omelian.
Comments
comments