Change the rules for calculating subsidies. Who will be left without assistance and for how much will reduce singmy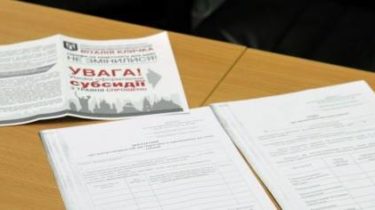 Change the rules for calculating subsidies. Who will be left without assistance and for how much will reduce singmy
© UNIAN
Money
Today, 20:31
The number of comments

1

The number of views

89
Facebook

VKontakte

Google+

Twitter

Telegram
50 thousand large apartment owners can remain without subsidies.
Ukrainians who hide income and have a large house or apartment or working in the shade, the next heating season, to rely on state assistance will no longer be able.
The state has a question to subsidianes as to whether incentives for communal to them so necessary? Therefore, the Ministry decided to check all, says the story TSN.Week.
Social services centres are preparing for a new wave of communal psychosis. The reason – the new Declaration, but rather a single line on a piece of paper, which actually will decide whether you receive a subsidy or not. "According to the decree, the Declaration will specify the financial situation of the applicant," – said the head of the Department of housing subsidies Sviatoshynsky district of Kiev Galina Kravchenko.
If you had paid attention only to the income or purchase now and will pay attention to: where he lives, and what drives the potential recipient of subsidies. Now the scheme is as follows: if you do not work, stand on the account in the employment centre then there is a chance for a subsidy, and payments. If you don't want to do this, but want to get a subsidy, social security will automatically enroll you income in the three subsistence level or 5286 UAH. In this case, you must pay unified social security contributions for three months.
Ministry officials claim that thus plan to combat shadow employment. "We have people who for years are in the employment center, which go only to sign a piece of paper that your work does not suit me. Subsidy get enough poor people," – said Minister Andriy Reva.
If you are a happy owner of a new car, with the release date which is five years, don't count on a subsidy. Even if this machine is purchased on credit, explains the Deputy Director of the Department of social policy of Kyiv Maxim Bochenko. "If I took over 500 thousand hryvnias car, sorry, that is 500 thousand of expenditures. How I'll return, it's nobody's business. It is believed the amount," he added.
In addition, for all reduced social norm of consumption of gas and electricity to 4.5 m3 per one square meter, heating – 30 kWh per square meter. This means that heat at a reduced price, you'll be able to afford less. Secondly, the house has an area of over 200 square meters into a class of elite, so the owner is deprived of the subsidy.
Big houses and apartments, which are charged to the subsidy, the government counted more than 50 thousand. Mainly in Western Ukraine. The Ministry refuses to pay the bill. They say that rich people should provide for themselves. Such change is the government's attempt to make subsidies more targeted. What the majority believes saving the family budget, some people have turned into profitable and arrogant business. "We always hope for their honesty, but we are always doing checks. We give the requests to the migration service. With us now closely cooperates with the Ministry of Finance for verification, where there is the presence of cars", – said Galina Kravchenko.
And that's all day you can do social service. The registers determine whether to buy people cars or property, or even expensive gadgets. Also known the level of wages. At the same time to catch the hand of dishonest dealers turns out to be none of their business, says author of new rules of registration of grants Vitaly Muzychenko. "In order to hand catch needs to be a separate organization that would do it. Today in the bodies of social protection of the population function is somewhat different than catching someone by the arm. Their function is to examine the documents and decide whether you need this person in gosudarstvennoi podderzhke or not," said Vitaly muzichenko, Director of the Department of state of social assistance Ministry of social policy.
If you already understand that the subsidies you will not need to go to the social security district office a statement of where social will send a inspector to examine the house. Then social inspector will transmit its findings of the special Commission and she will decide whether you get help or not.
"If you made an expensive repair, you can ask when it was made. I hasten to note that social inspectors do not look in the refrigerator, do not dig in the lockers, not looking, what sort of things purchased. Take out the TV and move to another room is optional. This does not apply to social inspectors," – said Maxim Bochenko.
Despite government assurances that the subsidies will become more targeted, and those who really need help will receive it in the future. Need another mechanism that would reveal really those who use public programs, do not clean the hands of local officials, making grants to a few apartments. A terrible waste of citizens ' money does not stimulate an honest Declaration of income.
Irina Prokofieva
Videosense on incentives: how to regain the right to receive subsidies
In Ukraine has changed the rules for granting subsidies. From now on, benefits would deprive the owners of large areas of new cars, the unemployed who did not stand at the labor exchange, and lovers of valuable purchases. Home owners who really need the subsidy, will check the social inspectors and the only way they will be able to count on help from the state.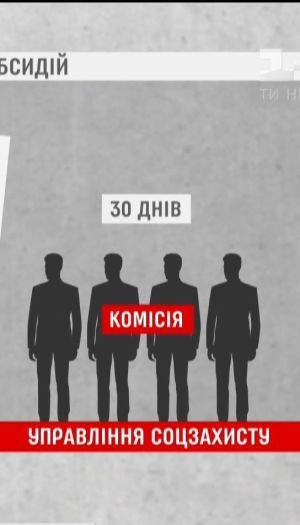 TSN. Week
Today, 20:07
Facebook

1

VKontakte

Google+

Twitter

Telegram
subsidies
Andrei Reva
Prokofiev
Next post
Saw a bug — Ctrl+Enter
Letter to the editor
© Materials
TSN
Leave your comment
Leave your comment
All comments
Always
deployed
Editor's choice
Comments
comments