Ambassador Yelchenko was called an unexpected cause of the favor the next UN Secretary General to Ukraine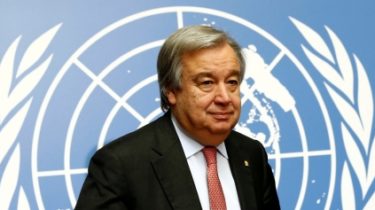 Ambassador Yelchenko was called an unexpected cause of the favor the next UN Secretary General to Ukraine
Antonio Guterres© Reuters
The UN can head Antonio Guterres of Portugal, where a lot of Ukrainian workers.
Ukraine will have big support from the UN under the leadership of a potential future Secretary-General of the United Nations, Antonio Guterres. He has the best chance to lead the structure on 6 October, the UN security Council unanimously supported his candidacy and recommended that the General Assembly of the United Nations to appoint it Guterres.
He is the former Prime Minister of Portugal (1995-2002). For ten years (2005-2015) was the UN high Commissioner for refugees.
That Guterres will be more supportive of Kyiv than the current UN Secretary General ban Ki-moon, broadcast "voice of America" said the permanent representative of Ukraine to the United Nations Volodymyr Yelchenko.
Read also: Poroshenko held a telephone conversation with the future UN Secretary General
"Ukraine hopes that Antonio Guterres will be able to return the head of the UN those leadership qualities, which lacked in recent years. Including on the situation in the East of Ukraine, in the Crimea. Under whatever pressure of various factors have not been the UN Secretary General, I am sure, Antonio Guterres, will be able to rise above pressure and to really Express their honest opinion about what he thinks. This, he argued, when 10 years was UN high Commissioner for refugees. Well, of course, when he was Prime Minister of Portugal. We know him well, he had our sympathy from the beginning, all six rounds of voting. We are very pleased with this decision. And the General Assembly early next week, this is a formality, choose him for this position," – said Yelchenko.
The Ambassador said that he had repeatedly met with Guterres on the situation in Ukraine. There have also been several meetings with the President of Ukraine Petro Poroshenko, foreign Minister Pavlo Klimkin, Prime Minister.
"In all these meetings, he carefully listened to all our arguments and his reaction was very favourable. He understands what's going on. Still need to take into account the fact that Portugal is quite close to us country. We know that this is perhaps Europe's most supportive country for the Ukrainians. No wonder there are so many Ukrainians work. And, by the way, the Guterres, as he himself said, almost every friend or relative there are Ukrainians in families. So he knows the Ukrainians and Ukraine. I think it will be well-versed in our issues," – said Yelchenko.
Comments
comments