The PACE is going to accept the Russian ultimatum – the Aryans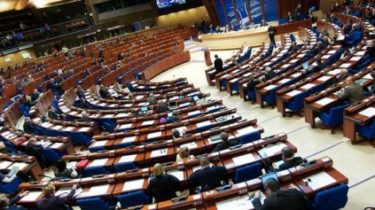 The PACE is going to accept the Russian ultimatum – the Aryans
© Parliamentary Assembly / Facebook
According to the Deputy, "the shameful story of becoming a reality."
The parliamentary Assembly of the Council of Europe (PACE) is going to accept the ultimatum of Russia, according to which the organization needs to change the rules of their work.
About this on his page in Facebook said the member of the Ukrainian delegation to PACE, MP Volodymyr Ariev.
"The PACE is going to accept the Russian ultimatum, but does not require Russia to follow the requirements of (resolution) of PACE. This will reduce the credibility of the Assembly. Shameful history becomes reality," – wrote the Deputy.
Earlier Aryev reported that in September during the visit of the PACE delegation Moscow, the Russian side an ultimatum – to change the rules by which the Assembly confirmed the credentials of national delegations.
Now, in order to question the credentials of any delegation in the PACE (particularly Russian), this solution should support at least 20 members of the Assembly. Aryev says that the Russians, instead of 20 people propose to install a rule in a third of the delegates present, or not less than 20% of the total number of members of the Assembly Today.
Moreover, Russia demands to change the procedure of monitoring: is monitoring countries Moscow wants to introduce a "monitoring of cases", i.e. cases. And the adoption of resolutions will be possible only if the PACE hall will be present at least half of the delegates.
See also: PACE President promised Paruby not to recognize the elections in Crimea
"A number of influential in the Assembly-person on Monday, October 10, ready to initiate the rule change of PACE so that the Russian delegation could without problems and restrictions to enter the Assembly in January 2017. First PACE rules propose to change in the interests of one member country and not in the interests of the organization," wrote Ryan in Facebook.
We will remind, the delegation of Russia is under sanctions of the PACE due to the annexation of Crimea and war in Eastern Ukraine. The Russians have no right to participate in the missions of election observation, be speakers as well as representatives of organizations in other European institutions. In addition, the Assembly deprived the Russians of the right to vote at meetings.
On 24 June, the Bureau of the parliamentary Assembly of the Council of Europe adopted a Declaration on the common values with Russia and the need to move towards. Later, the Minister of foreign Affairs of Ukraine Pavlo Klimkin stated that he is extremely surprised and disappointed at the Declaration.
Later Ukraine declared that will boycott their participation in the parliamentary Assembly of the Council of Europe, if recognized as powers of the Russian delegation in this organization, although in the elections to the state Duma on the territory of the occupied Crimea.
Comments
comments