Russia threw in the occupied Crimea new anti-aircraft missile complexes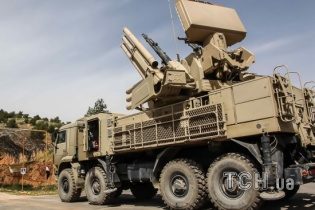 Russia threw in the occupied Crimea new anti-aircraft missile complexes
© Reuters
S-400 "Triumph" and odds "Pantsir-s" will place on the Peninsula.
Russia sent in annexed Crimea on alert new anti-aircraft missile systems and continues updating the black sea fleet with new ships, aircraft and appliances.
This publication reports the Crimea. Realities with reference to the press service of the southern military district of the Russian defense Ministry.
Read also: In Donetsk direction militants used anti-aircraft guns
Among sent weapons, in particular, a set of regimental anti-aircraft missile system s-400 "Triumph" and air defense missile-gun complex "Pantsir-S".
According to the defence Ministry of Russia, the black sea fleet and the Caspian flotilla before the end of this year plan to take in their warehouses about 20 units of ships and boats, and about 10 aircraft and helicopters of naval aviation – the su-30SM, su-24M, the Ka-27M.
Ground and coastal troops of the black sea fleet and the Caspian flotilla, the southern military district forces this year with the manufacturers of Russia received more than 350 units of modern armored vehicles and automotive equipment, missile and artillery weapons, communication equipment, electronic warfare, engineering equipment and other heavy machinery .
Earlier it was reported that Russia is amassing weapons and military equipment in the occupied Sverdlovsk and Ilovaysk. In Sverdlovsk must arrive 8 tanks, 10 wagons of ammunition (400 tons) and spare parts for the BMP, and in Ilovaysk – 20 tanks, five 122-mm MLRS "Grad" on platforms 8 tanks of fuel (400 tons).
Comments
comments