Emaciated, he dreams of two children with my future wife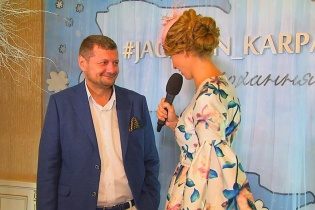 Emaciated, he dreams of two children with my future wife
© Social life
Soon, the politician in third time married.
Scandalous a radical Deputy Ihor Mosiychuk was admitted after arrest and number of vessels preparing for the wedding, says "social life".
"Beautiful wedding is in Kiev will be, willow is the witness", – said the MP.
Igor said that he lost 103 pounds.
See also: the Scandalous radical Mosiychuk dropped 100 kg weight and is marrying a brunette
He is very grateful to his beloved for support in a difficult time.
"I will say this: of course, the support of the woman always helps and helped me then and now. I am very glad to get rid of excess weight unfortunately, as a result of illness," admitted Igor.
Read also: Supreme court declared illegal the arrest of the Chairman
The Deputy noted that the current girlfriend and two ex-wives were present at all court hearings.
Politician dreams of two children with his future wife.
Recall now the politician is the son of Svyatoslav, and daughter Christina.
Igor Mosiychuk left on good terms with ex-wives and plans 2 children from the new marriage
Program
7 Oct, 22:59
Add to favourites
The MP is preparing for her wedding that will take place in Kiev. After the conclusion Mosiychuk dropped 103 pounds, but he is still concerned about the disease. In all the court sessions he was supported by two ex-wives and future, which politician wants 2 children.
Comments
comments