I will not leave the battlefield. Saakashvili commented on the information about the return to Georgia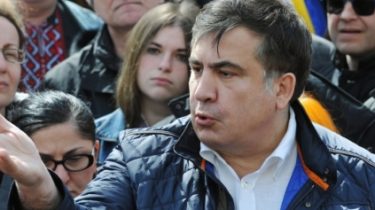 I will not leave the battlefield. Saakashvili commented on the information about the return to Georgia
© UNIAN
The Chairman of the Odessa regional state administration told about their plans in Ukraine and Georgia.
The head of the Odessa regional state administration , Mikheil Saakashvili is not going to return to Georgia for a long time, even if the elections to the local Parliament wins his party.
"I see that many are waiting for the results of the Georgian elections in the hope to send me back to Georgia. I want to disappoint, regardless of the election results in Georgia, I will not leave the battlefield and will fight for real change and the change of the political class in the country of my citizenship," — Saakashvili wrote on his page in Facebook.
See also: In Georgia are choosing a new Parliament
However, the politician noted that from the Georgians he is not going to turn away.
"I made promises to Ukrainians and not going to leave them in the lurch. Of course I will continue a lively interest in the Georgian events, and does not intend to leave him in the lurch and Georgians", — said the head of the Odessa regional state administration.
Earlier, the politician's wife Sandra Roelofs reported that Saakashvili will return home after the elections on 8 October for the celebration of the victory of his party.
In turn, former Prime Minister of Georgia Bidzina Ivanishvili said that the politician will not return to his homeland, where he awaits trial.
On 26 September the head of the Georgian interior Ministry has promised to arrest Saakashvili if returned to the country.
As you know, against the ex-President of Georgia Mikheil Saakashvili in the country initiated four criminal cases. He faces up to 14 years imprisonment.
Comments
comments