Poroshenko spoke about the changes in the Constitution with the head of the Venice Commission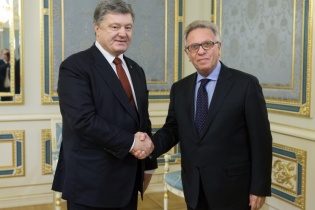 Poroshenko spoke about the changes in the Constitution with the head of the Venice Commission
© The website of the President of Ukraine
The head of state noted the role of the Venice Commission in the preparation of this law enforcement reform.
President Petro Poroshenko met with head of the European Commission "For democracy through law" (Venice Commission) , Gianni Buquicchio.
This is the website of the President.
See also: Ukraine has launched a judicial reform: what will change and what is the biggest danger
"The interlocutors discussed the course of implementation of the amendments to the Constitution regarding justice, which entered into force on 30 September 2016. The President noted the important role the Venice Commission in the preparation of this core reform", – stated in the message.
Poroshenko thanked Mr Buquicchio for the principled position of the Commission regarding the legal analysis of developments relating to aggression of Russia against Ukraine. In particular, the conclusions of the Venice Commission regarding the unconstitutionality of the referendum in the Crimea, and also about the discrepancy between international law Russia imposed a change in the order of admission to Federation new subjects.
Gianni Buquicchio confirmed the Commission's willingness to continue to assist in reforming the judicial system in Ukraine.
Recall that in Ukraine today launched a judicial reform: the necessary changes to the Constitution the deputies adopted in June. According to them, now to create or abolish a judicial institution instead of the President will be Parliament. Higher specialized courts will cancel, but will leave the Supreme – all judges will score again.
The high Council of justice will replace the High Council of justice. It is he who will give consent to the detention, arrest and dismissal of judges. And among the possible reasons for dismissal will disappear "breach of oath".
It with this wording up to the beginning of judicial reform, the Verkhovna Rada on the proposal of the High Council of justice had to dismiss 29 judges, including those who were thrown in jail maydanovtsev.
Comments
comments