For the Ukrainian military will purchase improved field rations of the new sample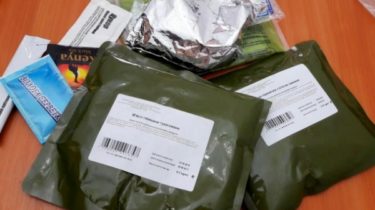 For the Ukrainian military will purchase improved field rations of the new sample
ATO
3 Oct, 19:42
1 of 4

/ / New sample
© Defense Ministry Of Ukraine

1 of 4

/ / New sample
© Defense Ministry Of Ukraine

1 of 4

/ / New sample
© Defense Ministry Of Ukraine

1 of 4

Archive photo
© UNIAN
/ / New sample
© Defense Ministry Of Ukraine

/ / New sample
© Defense Ministry Of Ukraine

/ / New sample
© Defense Ministry Of Ukraine

Archive photo
© UNIAN
In the diet include sweets and will increase the caloric value.
The government approved the purchase of dry rations for the new sample for the Ukrainian military – in food include chocolate and coffee, and to heat the food it will be possible without fire.
It is reported by Government portal.
"On behalf of the President of Ukraine after passing me on the vote on the draft resolution on amendments to food standards, the government unanimously voted and approved the proposed changes. This will allow us to purchase C's new sample", – said the Minister of defence Stepan Poltorak.
See also: Poltorak approved a new tasty part of the C's for the military
According to him, the innovation does not require additional funding – this year money for alternative suhpai will get by redistribution, and in 2017 – will take into account a specified expenditure.
The resolution introduces a new standard of nutrition No. 15 – daily field set of products with calorific value of 3500 kcal, which is an improved alternative to the existing C's. Provided a portion of the results of the norm – Breakfast, lunch and dinner, the machine will bottled water – 0.5 l for every diet. In addition, documented enhanced diet for participants of the ATO, in which the caloric content increased by 600 Kcal.
"Of innovations – the inclusion in the diet of dried fruits, chocolate, coffee, delicious first and second courses. First used retor-pack and a flameless heater for food. Thanks to new packaging technology, the soldiers get to eat first and second courses without the use of heat treatment", – stated in the message.
The procurement of these suhpaykov the defense starts soon.
We will remind, change of rations for the soldiers were planning volunteers together with the Ministry of defense. The previous rules C is a set of calories, which does not contain any vitamins and minerals. It wanted to enter into the diet, taking into account foreign experience.
Comments
comments