In Poland, the vandals destroyed the monument to soldiers of the UPA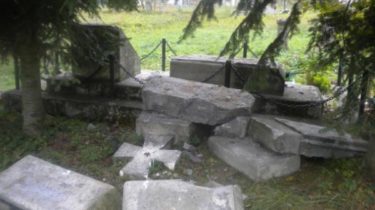 In Poland, the vandals destroyed the monument to soldiers of the UPA
Policy
Today, 10:48
1 of 3

© Facebook/Bogdan Chervak

1 of 3

© Facebook/Bogdan Chervak

1 of 3

© Facebook/Bogdan Chervak
© Facebook/Bogdan Chervak

© Facebook/Bogdan Chervak

© Facebook/Bogdan Chervak
OUN urged to respond to the incident, the Embassy of Ukraine.
In the South-Eastern Polish village of Werchrata unknown destroyed a monument to soldiers of the UPA.
Wrote about this on his page in Facebook the head of the Organization of Ukrainian nationalists Bohdan Chervak.
"In Poland, an act of vandalism. Destroyed and desecrated the monument to the UPA soldiers in the village of Werchrata (Subcarpathian Voivodeship)", – he said.
According to Chervak, is "obviously a direct result of the adopted in Poland of the law "on genocide".
"The question remains – is now the official policy of Warsaw, or the official policy of Warsaw has nothing to do with it?" – he was indignant.
Also the head of the OUN stressed that the poles do not avoid the answer of this incident.
"The issue before the poles should squarely put the Embassy of Ukraine in Poland. It's time to be tough on all anti-Ukrainian attacks on poles," said Chervak.
We will remind, earlier in Munich, the vandals poured black paint the grave of Bandera. The burial place of the leader of the OUN, not for the first time is under attack.
Comments
comments