In Marinka inadequate militants provoke the military to open combat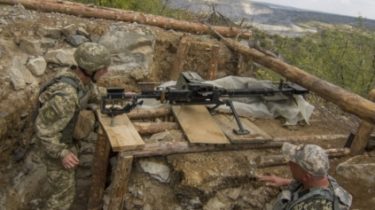 In Marinka inadequate militants provoke the military to open combat
© UNIAN
The officers keep the soldiers from contact fire.
In Marinka near Donetsk militants last night are on the same pattern. They are in darkness come close to the positions of the APU, provoke the military to fire, and then escape under cover of machine guns, according to a story TSN.19:30.
Ukrainian soldiers to comply with the requirements of the armistice, first do not open fire and repel the attackers with light missiles. Then the enemy starts to shoot, but from the rear it is supported by snipers and grenade throwers. Soldiers militants from their positions was removed. The retreat of saboteurs terrorists "DNR" cover with machine gun fire. Then to the morning there is a chaotic grenade.
"Harassing fire" is not a sighting, but a random bullet or a splinter can hurt someone from the defenders of Ukraine. The behavior of the enemy military called inadequate. In the morning all the men, though unharmed, but severely exhausted physically and mentally. "They provoke, shout, call to battle: come out and fight," says the fighter battalion "Donbass-Ukraine" with the Callsign "var". Order to fight the commanders of the soldiers is not given, because officially there is a regime of silence. The soldiers chained him hope to respond to armed provocations they will allow. In fact, from the Pro-Russian mercenaries fire does not stop.
The TSN reporter Mariana Buhan
Fighting wear: the Marinka chaotic attacks do not stop until the morning
TSN. 19:30
4 Oct, 20:33
Add to favourites
In the frontal Marinka fighters fired at a school attended by 150 children. Automatic and machine gun fire and even grenade explosions did not cease in this area until the morning. The order to fight the commanders of the soldiers do not give. But the guys hope to respond to armed provocations they will still allow it.
Comments
comments