The enemy strengthens its position under the nose of the military near Lugansk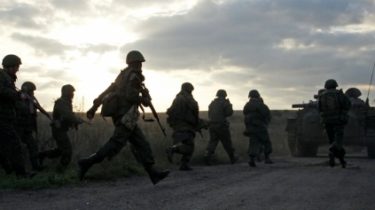 The enemy strengthens its position under the nose of the military near Lugansk
© Reuters
The militants use the fact that the Ukrainian military is forbidden to violate the peace.
Unilateral was declared a truce in the village of Lugansk. Militants shelled every day and even with krupnokalibernogo weapons, according to a story TSN.19:30.
There positions are surprised that their section of the front almost does not appear in the official records of headquarters of the violation of the cease-fire. "A couple of times last night the mortars were. And so the PKM, DShK constantly," says the soldier of the assault company of the 54th brigade with the call sign "mom". The military said that the enemy fires not only at night but also in broad daylight – with a few points and quite intensively for a long time.
Enemy bunkers located on three sides at a distance of just one mile away. The enemy is continually trying to get closer. The enemy always goes heavy machinery. The rebels believe that the APU will not impress her, because our guys can shoot anything except machine guns and machine guns that just don't reach the goal. The military can only watch and report what he saw to his superiors. Between the soldiers said that while the truce is to remain purely on paperand not in real life – neither of which the withdrawal of troops from Luhansk should not be considered.
The TSN reporter Eugene Nazarenko
The defenders of the village Lugansk one day not seen a "silence regime" in action
TSN. 19:30
4 Oct, 20:22
Add to favourites
The terrorists do not stop shelling positions of the armed forces. As in all the so-called modes of silence, what it is I do not know the soldiers, protect Svetlodarsk arc. In particular, the village of Lugansk, which bites into the enemy positions, the militants shelled day and night, using a prohibited caliber.
Comments
comments