Parasyuk remembered how to have fun at the wedding but unknown to him a pair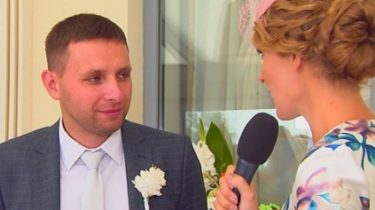 Parasyuk remembered how to have fun at the wedding but unknown to him a pair
© Social life
The people's Deputy responded to the invitation of a girl in the social network.
One of the witnesses of the groom "Titan Jackson" was known to the people's Deputy Vladimir Parasyuk, which to this role are used to, says "social life".
At the wedding the Carp and Terekhova policy again failed to find his lady love.
"We have four witnesses and there have been no relations, and we counted only three unmarried girls. What can be discussed. Can organize a battle," complains politician.
29-year-old Parasiuk very often had to accompany friends to the altar.
See also: Broke the door and scratched the car. MP Parasyuk quarreling with the "opposition" Vilkul
"Very often had to be friendship. I have no wife, I'm single. Every year options to my fellows of options for people to choose less. Every time I all invite and be invited. I wonder if I have a wedding, who am I gonna invite?" – said Vladimir.
He said Ekaterina Osadchaya on the brightest wedding, which was visited by honeymooners from strangers.
"When I became MP, I wrote in the social network as a young woman from the Volyn region and was invited to his wedding. I once thought food: he bought a gift, a bouquet of flowers. It was a completely unknown girl. They sent me an invitation to the reception. I arrived in the village, of course everyone was in shock. Was such a colorful wedding, Ukrainian, hut, in one word. Was and fight," he said.
See also: Parasyuk explained why staged a fight in Parliament
Parasyuk dispelled the rumors that the former "Titan Jackson" jealous Natalka Karpa to Vladimir.
"It was on the level, when Jackson went to the mayors of Pavlograd. He said that a very beautiful girl comes to us to speak, Natalka, and I wanted to meet you. We are familiar with it before the Maidan. There were no scandals and gossip, he knew where he was going and what his purpose", – concluded the Deputy.
MP Parasyuk share the secret of how he was an unexpected guest at the wedding in the village of Volyn
Program
7 Oct, 22:55
Add to favourites
One of the friends of the groom Terekhov was well-known people's Deputy Vladimir Parasyuk. The politician told about the most vivid wedding where he visited in a strange young.
Comments
comments